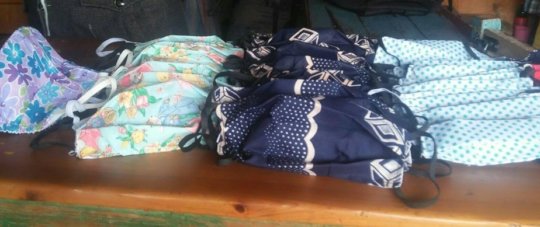 We are so very grateful for your support of Olalo of Hope-Kenya's Urgent Medical Care project.
Thank You!
Over the years you have responded to the medical needs of the people of Oyugis, Kenya…both young and old!
While the typical medical needs are still being met, we have proactively put some safety measures into place to hopefully fend off the Corona virus from impacting our beneficiaries and staff in Oyugis.
With your support and a generous micro-grant we received from GlobalGiving, we have been able to supply all our current education sponsored students and family members with masks made right in Oyugis.
A local seamstress who has struggled in her business due to the virus has been sewing these masks for us to distribute. We are thankful to offer these safety measures to our folks; and be able to support the local economy by using her services and providing her with an income.
Current law in Kenya mandates the arrest of any citizen outside of their homes not wearing a mask. It is a critical time to be able to offer these masks to not only keep them protected medically, but to keep them from being taken to jail.
You are making this possible! Thank You!
On a side and sad note: Since many of you have followed Felix through his journey with amputation and cancer, I did want to let you know that he has lost his battle and passed away last month. We have not been able to learn the cause of his death as all the final tests showed him cancer free.
Thank you for traveling this road with him; I do know he was so incredibly grateful for the support and prayers.
Nyasaye Ogwedhi!
Merry Broughal
Olalo of Hope- Kenya