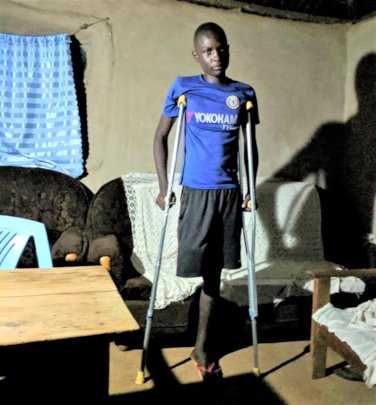 It's been several months since we have reported back to you with an update on Felix, the 19-year-old young man who had his leg amputated when it was found he had an aggressive bone cancer growing just below his knee.
Thanks to your generous support to Olalo's Urgent Medical Fund, Felix is just finishing his sixth chemo session.
While he has made a great adjustment to using crutches to get around, the constant wearing and pressure of them under his arms is giving him soreness and pain, but he carries on!
The chemo treatment side effects have not been kind to Felix either, but he continues to travel hours away from home to receive them.

The journey to the hospital is a challenge. Felix and his mum travel to and from the hospital in hot and overcrowded matatu's….vans that travel from city to city; public transportation. It's a difficult trip in the best of circumstances, but when feeling miserable and weak from the chemo treatments, the travel is so much worse.
Felix has a strong resolve to make it through and live, so he continues to push himself to get to his treatments.
We are so thankful that through many CT scans and other tests, it appears the cancer was totally removed when he went through surgery, and now insuring it doesn't appear elsewhere with the life-saving chemo sessions.
We thank you, and Felix thanks you for your continued support to the Urgent Medical project that is helping so much with the costs on this road to his recovery.
We are hopeful our next report is one of announcing Felix is completely, totally cancer-free!
Thank You for hanging with us as together we support his journey to recovery!
Merry Broughal
Olalo of Hope-Kenya