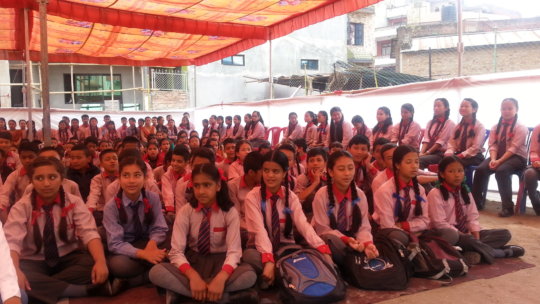 The Global Fund for Children would like to thank everyone who has contributed to the project "Disaster Relief for Nepal's Vulnerable Children." We are proud to announce that thanks to your support, we have now reached our goal of $6,000! Below is a glimpse into what our grassroots partners have been working on since our last report, as well as information on how they will be helping their communities moving forward:
The Global Fund for Children was founded on a commitment to support local solutions to some of the most pressing problems facing children by partnering with grassroots organizations around the world. As pillars of their communities, our grassroots partners in Nepal have stepped up to help their neighbors recover in the aftermath of April's earthquakes. Over the past several months, they have readily adapted to their communities' changing and growing needs by expanding their current programs and coordinating additional support. Now that many of the initial relief efforts have come to a close, our partners are helping their communities rebuild and overcome the long-term challenges brought on by the earthquakes.
The earthquakes caused severe structural damage to schools across the region, and many of the children that our Nepalese grassroots partners serve have had inadequate access to educational services since April. To keep their students safe, many damaged schools have been forced to conduct classes elsewhere, meeting in low-resource, temporary learning centers that are often crowded and noisy. In order to address this problem, our grassroots partner Partnership for Sustainable Development (PSD) Nepal has begun supporting the reconstruction of six rural schools that were damaged by the earthquakes. In the coming months, PSD Nepal hopes to begin construction on another four schools that the organization has identified as being in need of its services.
Additionally, our grassroots partners continue to address the health and safety issues of the children they serve through a number of different workshops. Our partner Gentle Heart Foundation has begun offering health and hygiene awareness classes to help earthquake survivors maintain cleanliness with limited resources. In the coming months, Gentle Heart Foundation plans to compile and distribute kits for people in the Chitwan district in order to provide them with basic health and hygiene supplies. PSD Nepal is currently offering workshops to children to help them understand how their bodies respond to stress, and to provide them with coping skills to deal with the emotional trauma they have experienced.
In the coming year, The Global Fund for Children will invite its Nepalese and other South Asian grassroots partners to participate in a regional GFC Knowledge Exchange—a multi-day workshop during which GFC grassroots partners gather to learn from their peers and from experts in community and international development. This Knowledge Exchange will focus on the issues of rehabilitation and social reintegration of vulnerable children. Grassroots partners will share lessons learned from their recovery efforts, learn from experts in the field of disaster recovery, and begin the process of long-term planning to help create more resilient communities.