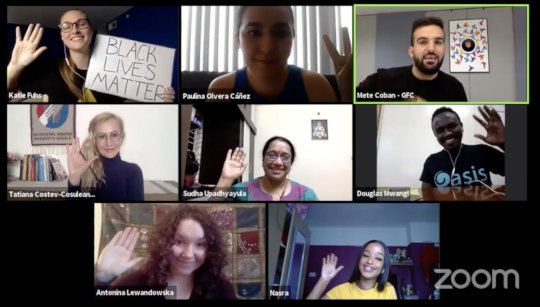 On June 3rd GFC's Youth Leadership Council hosted a global conversation with four GFC community leaders to talk about the impact of Covid19 on children and youth. As the Covid19 pandemic continues to unfold, the Youth Leadership Council identified the need for a public discussion focusing on the challenges of community organizations and on what their on-going relief efforts look like. GFC's community-based partners have not only rapidly mobilized to respond to young people's emergency needs but also plan longer-term responses to protect young people during pandemic recovery and beyond. The four leaders representing GFC community-led partners from Kenya, India, Mexico, and Moldova provided an authentic look into how children and youth are being impacted and what they have been going through to adjust their programs to the current needs.
The moderator of the global call was Mete Coban, Chair of Global Fund for Children's Youth Leadership Council, who also amplifies youth voices sitting on GFC's board. This event, being a great opportunity created by the Youth Leadership Council, engaged 130 partners, supporters, and other interested individuals eager to connect and recognize that children and youth are heard and valued. A question was asked during the webinar on what the participants believe worries children and youth most about Covid19. The top four responses were education (39%), physical well-being (20%), mental health (16%), and child abuse (14%).
One of the speakers, Paulina Olvera Cáñez from Espacio Migrante shared that the challenges migrant families and children on the US-Mexico border face are the increased uncertainty levels, true struggles with acquiring shelter, and inability to satisfy their basic needs. Tatiana Costev presenting Institute for Rural Initiatives in Moldova and Sudha Upadhyayula from HER Choices Foundation in India described the unexpected shifts of the situation and the urgency of figuring out how to adapt their programmes to the new context. Not being able to provide offline support to the communities anymore, they had to be creative about their solutions. In Kenya, Douglas Mwangi from Oasis Mathare came up with a technological solution through an SMS tool, enabling all their beneficiaries to access the learning content shared by the organization inconsistent with having access to the internet or a smartphone.
Douglas acknowledges they were emotionally affected by the pandemic and appreciates the way GFC's programs team was able to hold conversations with them and talk about their well-being. "I am very thankful for the GFC team being there for us," he said. Tatiana from Moldova generously shared, "What is important in our partnership with Global Fund for Children is how GFC supports us as a team, and how they help us to grow ourselves as individuals." Paulina from Mexico believes one of the ways to move forward is to educate themselves on racial injustice, as one of the important topics in the current context, considering the escalated racial discrimination against indigenous and black migrants.
At the end of the webinar, the other members of the Youth Leadership Council Sunga, Nasra, Katie, and Antonina shared much appreciation of the work our community leaders do. They were truly inspired and sent encouragement and solidarity to the speakers. This was an excellent discussion and invaluable experience sharing based on the feedback we received from the participants of the webinar.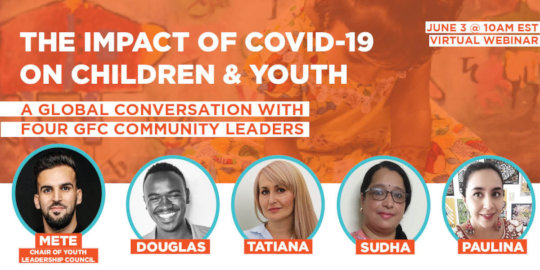 Links: