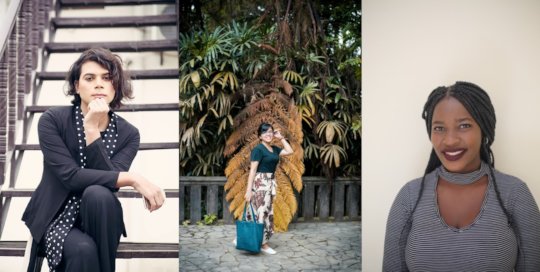 This is a very important time for the Youth Leadership Council, as with the engagement of three new young leaders Saro Imran from Pakistan, Owena Ardra from Indonesia and Sunga Kufeyani from Malawi, the team of nine young leaders is complete now. While we welcome them on board, we celebrate the diversity, commitment and passion of all the members to create more sustainable internal structures for the Council, as well as to establish their annual goals for 2020. Please get to know our new members and stay tuned for more exciting developments about the Council.
Saro Imran
Saro is a Young Transgender Activist and Entrepreneur for Sexual and Reproductive Health and Rights of young people, especially from marginalized communities. She has been working in the field of Sexual and Reproductive Health and Rights & Gender Equality working with various international organizations. She has taken part in the United Nations Universal Periodic Review (UPR) process by contributing to reports submission on SRHR issues faced by young people in Pakistan as well as the Transgender issues in Pakistan. She has also worked on different research projects aimed at understanding and highlighting the issues of marginalized communities, e.g. Antecedents of joining the transgender community and reciprocal perceptions; Feminist representation in Pakistani cinema; Understanding eunuchs through Pakistani television. Apart from that, she has also worked with UK AID & UNICEF for advocacy-based research like Choice & Voice; People's perspective about Health Services in Pakistan and Adolescents Development in South Asia respectively. She has developed a community-based organization in her region - Activists Alliance Foundation (AAGAHE), which envisions a society where all Transgender persons can live with dignity, self-respect, enjoying equal social justice and wellbeing.
Owena Ardra
Owena Ardra is a project coordinator at Yayasan Plan International Indonesia, a national NGO that works towards the fulfillment of children's rights and equality of girls in Indonesia. The project she has been working on for two years now focuses on preventing child marriage, teenage pregnancy, and female genital mutilation in various districts of Indonesia. She is an active member of JARINGAN AKSI and represents her organization in Girls Not Brides, both are networks of organizations committed to ending child marriage by fulfilling the potential of girls. Since 16 years old, her fondness for children and high concerns for tolerance and inclusivity brought her to work closely with diverse groups of children and youths through volunteer activities, mostly those living in extreme poverty and children with disabilities. During her professional years, she has contributed to the development of various learning materials with non-profit organizations and government, such as modules to develop the village children protection group – a community-based child protection mechanism – and modules of comprehensive sexual education for adolescents with intellectual disability. This experience allowed her to initiate a global discussion group regarding MHM and disability amongst academicians, NGO workers, and MHM experts. Owena is an avid reader, writer, and independent bookshop enthusiast.
Sunga Kufeyani
Sunga Kufeyani is a Program and Project Management Professional. Very passionate about Human Rights, Education Empowerment for girls in Marginalized Communities as well as young women's participation in policy-making positions. She is a Co-Founder and COO of Loving Arms Malawi a local non-profit which works with young people in areas of abuse and education, Loving is committed to victim support and raising awareness on issues of sexual violence to encourage conversations with the hope of encouraging survivors to speak up as well as encouraging girls from marginalized communities both financially and emotionally in staying in school and pursuing their dreams. Sunga enjoys writing, creating and designing projects and campaigns. She is currently an Atlas Corps Fellow working with Philanthropy University supporting a group of community leaders in the global south. She also sits as a Board Member for Ufulu Groups a non-profit that empowers single parents with vulnerable and under-resourced backgrounds through skills training and dignified work. Previously, Sunga worked as a National Director for 2ndMilk a US organization that works with vulnerable families in Malawi providing formula and nutrition.