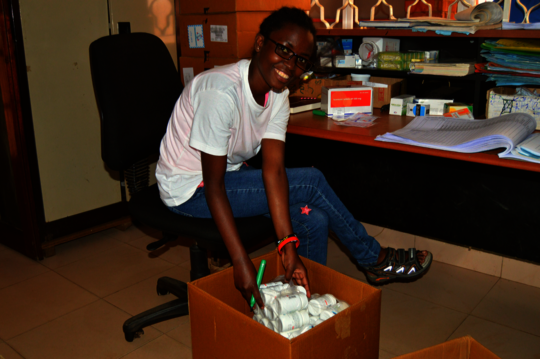 Joy (not real name) is a 19-year-old peer educator working at Alive Medical Services. She is a young lady who was miraculously chosen by a foreign lady (Natalie) in 2007 during one of her visits in prisons where she used to explore and engage with street children. On this specific visit, Natalie noticed a group of young children in the prisons cell and felt drawn to Joy, she asked for her file and any form of information they had on her. She also asked about the procedure it would take for her to take Joy into her care.
Joy, 8 years old at the time didn't know anything about her family nor had she heard from or of her parents and since there was no one to claim her, the process for Natalie to become her legal guardian was a successful one, she finally got a family.
After a series of being sick and sessions at Mulago hospital, Joy and her new foster mother Natalie did not know exactly what was happening with her health. She decided to consult a friend who referred her to Alive Medical Services, she was looking forward to getting free treatment at AMS. Joy received several tests, the first one being an HIV test which confirmed she was HIV positive and the reason why she was getting ill more often. Joy was then started on ARVS.
She continued to take her medication all through school until high school when she stopped because she was confused about why she should take medicine indefinitely. After a while, she started getting sick because of not taking her medication.
"In my high school days, we learned about STIs where the teacher mentioned most of the signs and symptoms of HIV and I happened to have one physical sign, the skin rash," Joy sadly said.
Joy had an irritating skin rash and her fellow students saw her taking medication daily, which led them to become suspicious of what illness she might have, making her even more uncomfortable. She was now even more depressed than usual and was finally sent home to seek medical attention as her illness seemed to be getting worse. Once home, she confided in her foster mother about her insecurities, this paved way for them to return to AMS as she realised it was time to disclose to Joy the actual status of her health.
At AMS she met with Dr Elizabeth who was very professional at handling her case, she explained to her what it meant to be HIV positive and why she had been told to take her medication, the benefits of taking it more effectively. She remembers the first weeks being the toughest, but with the support from her foster mother, she was able to cope.
AMS has become more than the family, friends, and parents she has ever wished to have. "AMS embraces you the way you are, at some facilities, you go pick your drugs and that's it. The rest is usually not their business". Joy acknowledges.
Joy is glad she was chosen among the young people at the centre to train and become a peer educator at AMS, and this is giving her plenty of opportunities like sharing her story, attending summits, conferences as well as visiting other facilities, being able to interact with other peers on their daily challenges. Most of all she has become more confident and is not lost in the self-stigma that had built up during her high school days. She is very hardworking, easy to talk to with a dream to improve her life and grab onto future opportunities.
Joy is now a peer network coordinator who is using her story and life experiences to change lives and she is grateful to AMS staff for the endless support and unconditional love with all adequate services available all the time. She wants to work so hard and facilitate herself for further education in Public health so that she can help people who have gone through the same experience. She also wants to own an orphanage for abandoned children so she can be able to give back to the community especially those on the streets.