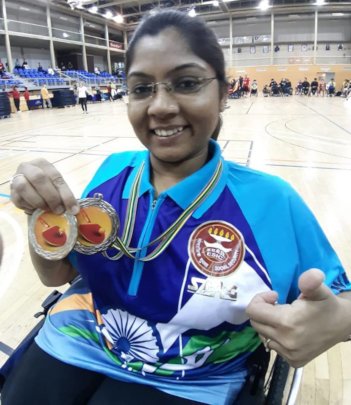 Dear Donors,
Greetings from India!!
We are very grateful to you for your generous support to our new project "Enabling Lives of 500 People with Disabilities". This nine months young project has received overwhelming responses that have built our confidence and faith in the project more than before we had. You will be surprised and happy to know that in these nine months, we have been able to provide assistive devices to 46 people with disabilities, we distributed 30 digital hearing aids to young school going children with hearing loss, and 16 customized imported wheelchairs. We have assigned a task to our interns to collect the feedback, and usages of these devices. We will be ready with this report next month. We will share the feedback report with you too.
You would love to read the following stories of Ms Bhavina Patel and Sonal Patel are Paratable Tennis Players; represent India in the International championship of Paratabel Tennis Players. Both Ms Bhavina and Ms Sonal were trainees of Blind People's Association. BPA has motivated them to choose sports as a carrier. They were reluctant at the initial stage, BPA has developed infrastructure facility for para table tennis, and motivated them to practice the table tennis every day.
Ms Bhavina and Ms Sonal Patel are world class players now; they played at Commonwealth games, Asian Para Olympics and many international events. Earlier, both the players used simple sport wheelchairs, and faced many difficulties during the games. Now, they were provided customized imported sport wheelchairs under this project. They were so happy with these wheelchairs, these wheelchairs are lightweight, can turn at 360 angles, and wheels are very good. These wheelchairs have increased their speed, efficiency and comfort while playing table tennis on wheelchairs.
Recently, they participated in Para Table Tennis Costa Brava Open Championship 2019, organized on 20th March to 22nd March at Giorna (Spain). Both the lady players played heart winning matches in single as well as in doubles. Ms Bhavina won Silver Medal, and Ms Sonal won Bronze Medal in singles. They played team tournament as well, they won Silver Medal in the team tournament. It was very pride moment for India as well as for the organization also.
We must thank you all donors, well-wishers who supported this project which enabled us to provide customized imported these two young promising players that have resulted in three medals. We are very thankful to you for your wonderful support. The following links show results and their world ranking.
Result:
Single Result: http://ipttc.org/upload/results/files/CostaBrava_Single_results.pdf
Team Result: http://ipttc.org/upload/results/files/CostaBrava_Team_results.pdf
World Ranking: http://www.ipttc.org/rating/2019-03-01/Women_in_wheelchair.htm
In addition to this we are very happy to inform you that this project as well as our organization, has been vetted by the Global Giving team for the year 2018. They have given us ranking stars based on our project performance, effectiveness, and site visits by GlobalGiving Ambassador. This recognition and appreciation show that our commitment to the cause, result oriented approach and very important is that your invested amount has been properly utilized and benefited to most needy people with disabilities.
We will work harder in the year 2019 than in 2018. We will add more feathers to our achievement cap. Your support motivates us to take a project at a new height. We request you to continue your support and believing in us.
Please share with your friends, family members and relatives that you are supporting a good cause, motivate them to be a partner of this project, and help us to provide best quality assistive devices to the persons with disabilities.
We look forward to your continued support.