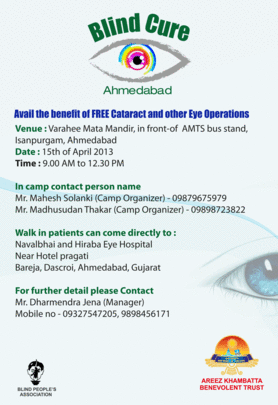 During the year 2012-13, N H Eye Hospital conducted 10,000 eye surgeries - a landmark achievement. A leadsing industrialist of Ahmedabad, Mr. Piruz Khambattat of Rasna International desired the organization to launch an innovative concept of clearing back-log of eye surgeries. A random sample of slum areas of Ahmedabad and city and its environs established that about 20,000 poor persons in these areas need services of eye surgeries. The project has taken a challenge of conductiong 20,000 additional eye surgeries during the next 4 years at the rate of 5,000 surgeries per year.
This project popularly knows as "Cataract Free Ahmedabad" was launched on 4th January, 2013, the Louis Braille Day, the inventor of Braille sytem of readind and writing by blind persons. While this campiagn is motivated by Mr. Piruz Khmabatta, Mr. Jeahngir Cama, Managing Director of the Cama Motors and Cama Hotels also joined the campaign and decided regular support to the campaign. With his support, one camp shall be conducted every second Monday of every month at Varahi Mata Mandir, Isanpur. The Trustees of this famour temple in Isanpur have decided to provided complete logistic support for this purpose. The poor people staying in Isanpur, Vatva, Maninagar and Narol shall be able to take advantage of these camps.
With the support of Mr. Piruz Khambatta, the Project is planning to organize one camp in Juhapur, the largest settlement of poor people in Ahmebabad. As per the campaign, all perons having eye problems shall be provided services of eye surgeries an treatments completely free of cost.
We sponsor for supporting this campaign for all other slum areas of Ahmedabad. All prospective donors who wish to support such a large and unique campaign and who wish to enable poor people of Ahmedabad to avail free-of-cost eye surgeries are most welcome to support this campaign.
The organization is getting media support also for popularzing this campaign. The support of donors would enable us to achieve this target of 5,000 additional eye surgeries every years.
Encouraged from the results of this campaign, an organization known as "Friends of Gabat" have decided to launch a campaign "Cataract Free Sabarkantha'. The first meeting on this initiative will be held at the campus of Blind People's Association at Vastrapur on 21st April, 2013. The donors are invited to support this campaign also. Any donor is welcome to contribute US $ 30 for each surgery to conducted as a part of this campaign as well