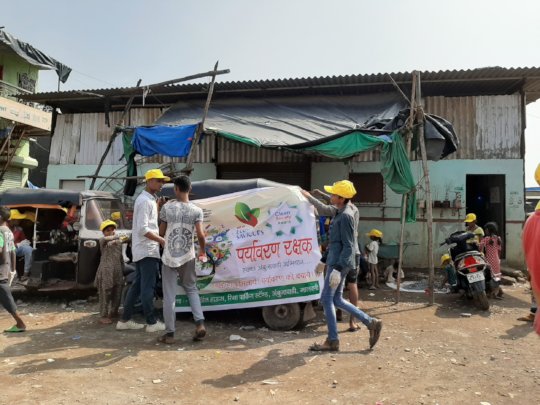 Eco Saviours Campaign led by children and youth
But sooner my regret of arriving late turned to excitement when I heard that we have to take frootis for the program still undergoing in the other part of Ambujwadi which is, for the most part, is 'undiscovered' to me. I went ahead with, one of the youth at Ambujwadi and my fieldwork supervisor carrying 2 boxes of frootis. We moved through the gallis and took a few turns and reached the point.
I got to know that the Eco-saviours campaign is a program for saving the environment comprising of a few elements- household waste segregation into dry and wet waste, clean society through society-level waste segregation and clean lanes, and finally ground cleaning at the community level. Today was the ground cleaning activity.
I saw two YUVA staff being circled by the youths as they were giving them instructions regarding the treatment of waste material and to wear gloves while disposing of waste in a bin. As by that time the waste got binned, it was time for refreshing frootis which the staff distributed them. I couldn't help myself but just witness silently, smile and take out my phone and capture them.
As we moved ahead there was a little ground which was littered less than the previous spaces as the team reached there more youths joined us and this time to my surprise kids belonging to the Bal Adhikar Sangarsh Sangatana (BASS) were there in more numbers. The staff again instructed them, and they wore plastic gloves, collected the litter here and there and disposed of in a small bin. And after the cleanup drive, everyone including the youth and kids proclaimed they will keep it clean time and time again. In the end, they were put in two small queues and were sent to wash their hands and small packets of water were provided to quench their thirst as it was hot and sunny outside.
I was amazed that on a day like Sunday when entertainment, Internet, games, social media are in the reach of their pocket they turned up for the campaign and they were in numbers counting more than 100.
I felt they are more sensitized towards the issue of unclean spaces and taking the initiative towards a cleaner, better community and be the change-makers and leaders of tomorrow. As there were few who could not receive the campaign cap of 'Eco Saviours' but were still present and zealously helping others in cleaning the litter.
While returning back from the community with staff and kids I purposely and inaudibly stepped back to capture them.
"The SAVIOURS of the day"
With what I have witnessed I could say Eco Saviours Campaign is a collective action to save the environment and includes the ecological child rights aspect.
Under this campaign, Children planned 3 parts:
Waste segregation and kitchen gardening.
Ground cleaning
Clean society award