On 12th June - World Day Against Child Labour, the Child Resource Centre (CRC) organised a campaign against Child Labour. As part of the awareness campaign, the children organised a Prabhat Pheri ('Prabhat Pheri' is a rally organised early in the morning, and as most of the people are at home during this time they come out of their houses to listen to the demonstrators and understand the message). This helps in increasing participation and increasing awareness about issues.The starting point of the Rally was the CRC and it ended at Mankhurd Police Station. Police Inspector, Mr Yadav welcomed the children and appreciated their efforts. He spoke at length about child rights and told the children that in case they see a child engaged in child labour or observe a child being forced to work, they need to reach out to the police on the helpline number 100/103. He assured the community that the police will take necessary actions against child labour.
The banners which children made included the slogans like-
"Baal majduri band karo,Bachcho ko kaam karvana band karo." (Stop child labour, stop making children work.)
"Shiksha har bachche ka adhikaar, baal majduri kanoonan apradh hai." (Education is a right of each child, child labour is an offense.)
Children tied ribbons with the message, "Hum baal majduri ka virodh karte hai" (We are against child labour) on the hands of people from the community and policemen. A total of 40 children along with their community took part in this rally.
We thank you for supporting this endeavour and look forward to continue conducting such programmes.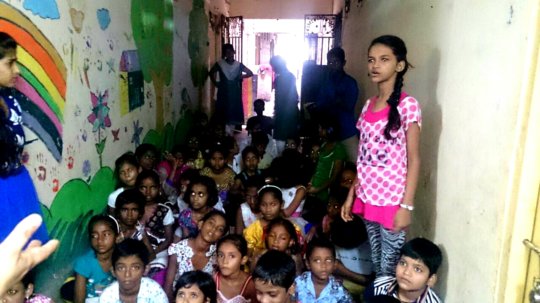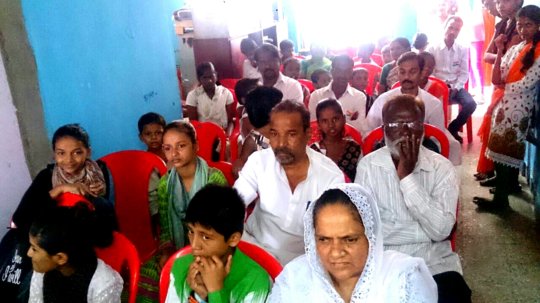 With the summer approaching and our openness to explore innovative social experiments, this year YUVA invited 10 girls in urban slum area in M-east neighbourhood for Dance Movement Therapy (DMT). The girls undergo many stressors during their daily life which ultimately hinders their psychological and social wellbeing. DMT workshops were planned for the girls to come out and express themselves freely and explore dance in a new way.
A 18 days workshop consisting of themes such as empowerment, relation with self and body, exploring self image were conducted. Many girls shared how they feel new sense of confidence and have now overcome their fear of expressing themselves.
Sandhya a girl who was dealing with low self esteem now shares that she is on a journey to overcome her fear and now talks with more confidence with people around and feels more comfortable in front of boys. DMT perhaps helped her to build a postivie self image and gave a non judgemental space for her to work on her weakness.It was a safe zone for her to be vulnerable and build internal support structures.
Many girls have moved a step towards empowering selves. We thank you for supporting this endeavour. We welcome more such programs for our children in the resource centre in future as well.
Substance abuse is rampant in the community in M-east ward in Mumbai. A number of young boys consume tobacco in these urban slums. To address the issue – the children core group at our Child Resource Centre (CRC) organized screening of documentary depicting health hazards of consuming tobacco. This was followed by a series of discussions with children. The children shared with us that they picked up this habit from their peers and youth in the community. The documentary and the discussion raised awareness regarding the hazardous health consequences of tobacco.
Prakash a child from the community formed a group to support his friends and other peers in an attempt to give up tobacco and decided to monitor the children who were in the habit of consuming it. Prakash, a 14 yr old himself was under the substance abuse cycle since last two years. With health sessions and other specific activities to bring awareness about effects of tobacco, Prakash became aware; as a result of creating the peer pressure and support 8 children, including Prakash gave up tobacco consumption. This children's group is now also educating elders in the community now about health consequences of tobacco consumption.
We at YUVA – CRC support them to deal with several issues like tobacco consumption, on their own and provide them enough resources to know how to seek help - this how we empower children. In the past few months we have been able to create awareness about several issues, all thanks to our donors for supporting us in our work to help children lead a dignified life! Thank you!
WARNING: Javascript is currently disabled or is not available in your browser. GlobalGiving makes extensive use of Javascript and will not function properly with Javascript disabled.
Please enable Javascript
and refresh this page.