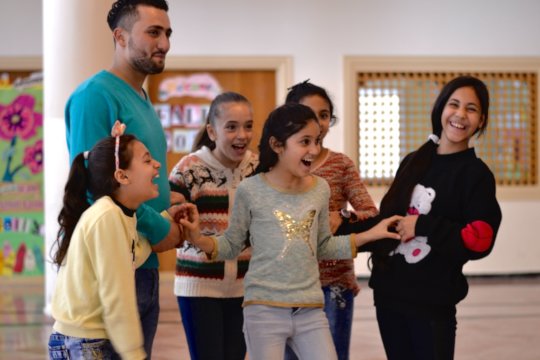 This session at TYO marked my first-time teaching 5th and 6th graders English, and with it the introduction to a huge group of students who seemed to have boundless enthusiasm and limitless amounts of energy. In the spirit of TYO, I looked for ways to redirect and focus this energy, rather than trying to suppress it and control it, and ended up introducing my favorite personal teaching style into the classroom: Competition.
I am hardly the first teacher to harness the benefits of competition. Its effects have often provided positive results. The use of team competition in education has been documented in psychology before, including the 1981 study Effects of Cooperative, Competitive, and Individualistic Goal Structures on Achievement. The study tested how students preformed when they competed against each other individually or as a team working in a cooperative effort. The study concluded that, "Cooperation with intergroup competition is also superior to interpersonal competition and individualistic efforts," (Johnson, W., Maruyama, G., Johnson, R, 47). By adding a teamwork element to competitive learning, students were able to remove themselves from their insecurities and play together, learning the lesson material without realizing they were studying through play.
The study supports the claim that team competition can help students academically, but that's not all competition can provide students. Competitions help to meet students half way by using the energy that they naturally bring to class and redirect it in positive directions. Energy in a classroom can cause disruptions and distractions during class, but it's not an inherently negative thing and can be used in a positive way. If students supply the energy, teachers should supply the means to use it in constructive ways and change how students view learning.
Confidence can be cultivated during activities when students recognize their abilities and overall contribution to their team getting points. During an intense moment of competition, students will try to help their team however they can. Win or lose, the sense of contributing to a shared goal can often boost the confidence of even the shiest students.
The positive impact of competition in the classroom became obvious through my own anecdotal experience with one of my older students as the class participated in a competitive activity in 4 teams. The subject was spelling, one of the less engaging subjects, yet when points were on the line, my students scrambled to find the necessary letters out of a pile. The student, who is normally the most reluctant to answer any question and tries his best to sit in the corner, was now completely hunched over the table, sorting through letters with his teammates and excitedly yelling that he had found the necessary vowel. This complete transformation wasn't merely limited to the spelling challenge. He continued to amaze as he encouraged his teammates, excitedly pumped his fist when his team scored and was the first to throw his hand up in the air when his team had completed their task first. As an individual, he was unsure and timid in his answers, but surrounded by his teammates and the chance of victory, he was a completely different student. The student now shows his confidence outside of competitions and is more likely to engage in lessons when he knows that he might have an opportunity later to use that same knowledge to gain some much-coveted points.
Games and activities allow students to grow academically, gain confidence in their abilities, and express themselves through play. Education that is effective, fun, and leads to personal growth is what TYO is all about, and what distinguishes it as an education center rather than a traditional school. The goal isn't merely to have students leave our doors with a little bit more knowledge in their heads, but to create a personal love of knowledge and to grow as individuals.
Citation:Johnson, D. W., Maruyama, G., Johnson, R., Nelson, D., & Skon, L. (1981). Effects of cooperative, competitive, and individualistic goal structures on achievement: A meta-analysis.
Psychological Bulletin, 89
(1), 47-62.