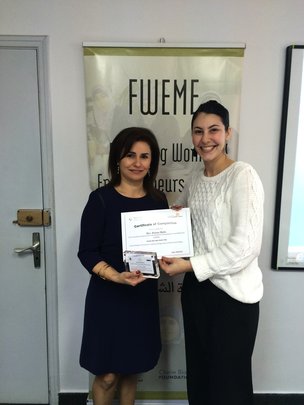 Thanks to your contribution, TYO-Lebanon (TYO-L) has spent the last few months hard at work helping entrepreneurs in the Bekaa take their businesses to the next level! TYO-L is now working with 5 selected entrepreneurs on expanding their business networks, accessing finance to scale up their businesses and fine tuning their branding and corporate identities. We are happy to share brief profiles on these five women and their businesses:
Roula: "Atmosphere.... Art & Design School & Gallery… Put Art in your Sphere!"
Roula is a practiced artist and currently has a small studio space and gallery that she would like to expand into an Art and Design School to service artists locally in the Bekaa. Through Atmosphere, Roula wants also to create a space for talented people to connect with potential art lovers companies and individuals, affording young artists a chance to display and sell their work!
Rola: "Go Green Go – Live the ultimate warm eco experience!"
Rola will expand her businessby launching an environmentally friendly log, which will replace the traditional wood log by transforming houses into warm and happy homes using practical, effective eco friendly heating.
Helene: "Helene d'Av.... l'espace beaute complet! Beauty... from the inside out!"
Helene is a charming, fresh, classy committed lady with positive energy shining from the inside out. Helene is a beauty specialist well known in the region for her quality work, her honesty and her distinguished simple personal approach to beauty. Helene is ready now to expand her existing beauty center into a more holistic women's wellness center: the only one of it's kind in the Bekaa!
Tilda: "TILES & CO.... when a tile says it all!"
Tildais a serious, passionate, talented, dedicated & committed entrepreneur. Despite somewhat difficult family circumstances, she created a very small cement tile fabric and that she could manage and make profitable for herself and her two children. She is now ready to take her business to the next level!
Rima: "RIYA ... Rima Sawaya's spirit in landscaping & interior!"
Rimais a skilled and talented young lady, passionate about embellishing all living areas –starting by the public spaces in Zahle. She is specializing in interior design and landscaping and her projects address all the same issue: embellishing ecologically starting from the concept up!
Again, we thank you on behalf of the hardworking Lebanese women entrepreneurs in the Bekaa Valley of Lebanon!