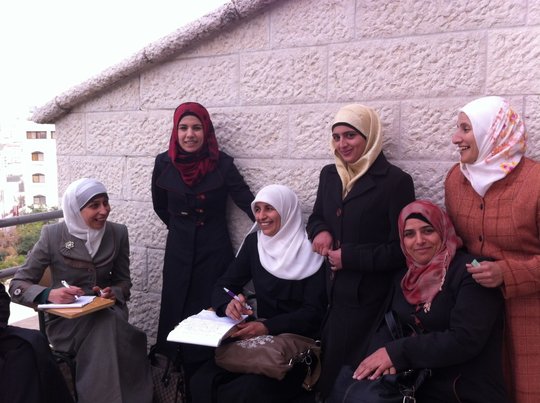 Earlier this year you were introduced to the hard-working entrepreneurs in Lebanon that have benefited from your generous support; Now it's time to meet the 12 burgeoning entrepreneurs in Palestine! Along with the Small Enterprise Center in Ramallah, TYO Nablus has been working with entrepreneurs from the North to help expand their business networks, overcome misconceptions about access to finance, and scale up their businesses while developing a strong brand and identity. Read on to learn more about each one of these inspiring women and their business ventures!
Nahawand, Play With Numbers
With a degree in mathematics and a career in a chemistry lab, Nahawand is no stranger to numbers. For years, Nahawand offered tutoring help to the children in her family and community who struggled with math. Nahawand noticed that the materials provided by public schools in Palestine promote rote memorization rather than critical thinking, leaving students discouraged.
Nahawand's company, Play With Numbers, was founded three years ago in Nablus, and provides one-on-one tutoring services in homes, as well as at a local education center, using a combination of mental math techniques and critical thinking perspectives to make math fun, engaging, and simpler for children.
Tahreer, Baladna Jams
Baladna Jams provides quality jams and jellies from Palestine's fig plants. Made in her home, Tahreer's hope is that she can bring a Palestinian product into the market, which is crowded with Turkish and Lebanese imports, despite Palestine's rich agricultural resources.

Da'ad, DHS Textiles
Ten years ago, Da'ad was inspired to bring international styles to Palestine, and reach an untapped market by blending global trends with traditional Arabic attire. DHS Textiles- Da'ad's private label- is based in Tulkarem, Palestine and currently operates non-formally out of Da'ad's home. The company produces high-end formal and bridal ware for adolescent and adult women using quality fabrics, such as taffeta, silk, chiffon, and lace.
Howaida, Mira's Soap
Howaida spent the majority of her career in soap factories in and around Nablus, working in production and manufacturing. In 2011 she decided to take the skills she had acquired and start crafting her own products, using locally-sourced ingredients such as camel's milk, coconut oil, and olive oil, and launched Mira's Soap.
Rola, Paradise Vegetables
Paradise Vegetables, Rola's non-formal enterprise packages and home delivers fresh, organic vegetables directly to homes in Nablus, allowing families or restaurants to easily purchase and receive fresh, pesticide-free produce. While her products change seasonally, Rola's specialties include arugula, beans, and various herbs.
Donia, Soft Dream
Soft Dream is the revitalization of a home goods enterprise Donia operated prior to the Second Intifada, when she was forced out of business for economic reasons. Today, Donia designs and sells quality duvet covers, blankets, bedding, and other home décor. Donia is passionate about creating high-quality local products that offer alternatives to the poorly-made, low-grade fabric bedding that is imported from China and regularly sold in the region.
Maisa, Tubasee Soaps
Based in the northern Palestinian city of Tubas, Maisa runs a small shop where she produces and sells handmade soaps, which are comprised of local ingredients, such as camel's milk, chamomile, and extra virgin olive oil. Producing 300 bars of soap per month, Maisa currently employs four women part-time in her small factory, and is registered with relevant local authorities to ensure the quality of her soap, and allow her to sell in other shops throughout the country.
Atika, Cooking Club
Cooking Club is a catering business- run out of Atika's home- that provides fresh, quality meals for meetings and special events. Atika currently serves a small number of clients per month, which primarily include friends and individuals in her social network. However, as part of the FWEME project, Atika hopes to gain the marketing and advertising skills needed to increase her customer base, and grow as a premier catering service in Nablus.
Zeina, Pal Healthy Store
Zeina knows that globally, finding quality medical care- particularly specialists- is not always an easy process. Through her research as a computer engineer student, Zeina learned of various web-based applications being utilized in other parts of the world that allowed users to search for medical specialists available in their area in real time, and read reviews and ratings from past patients. As a product like this did not exist in Palestine, the idea for Pal Healthy Store was born. Pal Healthy Store is an online application currently under development that catalogs medical experts in Nablus as well as surrounding villages, and allows users to directly search for a specialist by field and location.
Asma, Magic Design
Asma has long been interested in creating- whether it was working on formulas in the science lab during her time as an engineering student or composing designs on Photoshop. She has always enjoyed tasks requiring an acute attention to detail. It's what led Asma to create the idea for Magic Design. Magic Design seeks to provide logo design, as well as thermal printing on t-shirts, cups, mugs, and similar collateral to businesses in Palestine.
Somood, Revival of Palestinian Heritage
For years Somood enjoyed embroidery as a hobby. Over time, she began to sell her handicrafts at local bazaars, school fairs, and small shops. This earned Somood a reputation within her village as a skilled craftswoman known for creating traditional gowns, scarves, jewelry, and purses. The ongoing success Somood found at local markets inspired her to turn her hobby into a full-time business and share her passion for traditional Palestinian handicrafts.

Ghada: Organic, Anabta Mushrooms
Anabta Mushrooms produces organic mushrooms and mushroom-based products that are grown through innovative, hydroponic techniques. Ghada began growing and selling mushrooms in 2008 and has been operating the business out of her home ever since. On account of her participation in the FWEME project, Ghada has been able to create and refine her business plan, join an agriculture cooperative in Palestine's North, and officially register her business with the Palestinian Ministry of Agriculture.
Links: