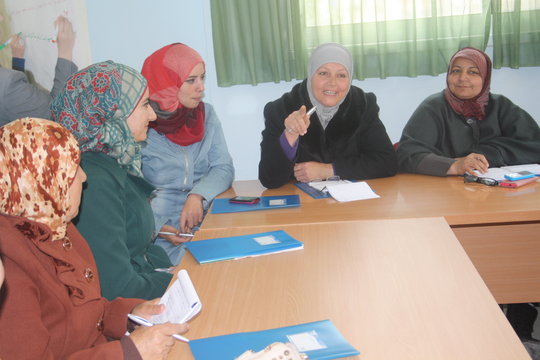 In our last update, we shared that this year, we began supporting the newest group of Palestinian women entrepreneurs. We began with intensive psychosocial trainings and thanks to your support, TYO has been able to empower these women and their emerging businesses through technical trainings. Working in partnership with the Small Enterprise Center in Ramallah, TYO has been working with entrepreneurs from the Northern West Bank to help develop their business plans, expand their business networks and scale up their businesses. Meet TYO's 15 newest entrepreneurs:
Amna, Ibda' [Creation] Embroidery
Amna has been producing her embroidery pieces from her home since 2005. She dreams of one day owning a shop that will provide enough space for her to purchase and store the necessary machinery for Ibda' Embroidery. She is always on the lookout for a modern take on traditional Palestinian embroidery and has incorporated the craft into wedding attire and the uniforms of Dabke (a traditional Palestinian dance) troupes in Jenin.
Falesteen, Play and Learn Educational Tools
While working towards her Bachelor's degree in Education at Al Qud's Open University, Falesteen turned a class project into a business idea. For a final project at university, Falasteen created an educational tool that utilized play as the main component of learning. Falesteen also volunteers with TYO's early childhood educational program. Working with the target audience of her business provides her with continuous inspiration and concepts for future product ideas.
Fathia, Al Baylasan Handmade Palestinian Embroidery
Fathia has created embroidery products for over 30 years. As a university student, she would produce embroidery pieces to be sold at events to support fellow classmates with special needs as well as those with financial difficulties. In Nablus, Fathia, with her family's financial support, established one of the first embroidery shops in the city. Unfortunately, as the economic situation deteriorated in northern Palestine during the second Intifada, so did Fathia's business. In 2003, after operating for five years, she was forced to close her doors. This did not discourage Fathia's passion for embroidery. For the past decade, Fathia has continued to embroider clothing to sell to her family, friends, and community through her Facebook page and at local exhibitions.
Fida', Happy Kids-Nazlet Zeid Preschool
Fida', comes from Ya'bad, a small village 20 km west of Jenin, Palestine. In 2009, with the construction of the separation wall and expansion of nearby settlements, the village became increasingly isolated. That's when Fida', realizing the need for a safe place for children to learn and play, opened up the first preschool in the area. With land donated by the community and a grant from the Palestinian Businesswomen's Association, Asala, Fida' was able to turn the space into an operational preschool. Once complete, Happy Kids-Nazlet Zeid Preschool became formally recognized by the Ministry of Education in Jenin. Now children from four neighboring villages also attend the preschool.
Jinan, Needle and Thread
Jinan learned the tradition of embroidery as a hobby when she was a child. In 2000, Jinan created Needle and Thread with the savings she accumulated from working at a sewing factory in high school and her early adult years to create embroidered household items such as pillows and lampshades. What makes Jinan's pieces different is that she uses nontraditional Palestinian colors and designs in her products. She is now taking it a step further by incorporating embroidery with crocheting to produce baby clothing.
Khalidah, [Business name TBD]
Khalidah aspires to one day have her own plus-size clothing line. The idea began a couple years ago as a hobby after attending a training course at Shami Textile Center. In order to buy materials to start producing pieces, she collected on debt that was owed from friends and family. The few dollars she occasionally leant out to family members added up over the years. Although it is still in the idea phase, Khalidah has begun producing plus-size women's clothing by recycling traditional sized garments and evaluates their market potential to further improve her craft.
Lina, Hikayat Al Ward [The Story Of The Flower]
Lina began her business informally in her home three years ago. Soon after, she realized that there was much more to be learned in the field and began working at a florists' shop. In September of 2014, Lina partnered with a fellow florist, who provided the financial backing, and opened a florist shop in Jenin, a city in northern Palestine. Competition is very high in Jenin, which is an agricultural area, so Lina began a service that allowed Palestinians living in countries outside of the West Bank a way to send flowers and gifts to family members for holidays and special occasions.
Mai, Candles for Life
Mai decided to take on a for-profit business venture producing handmade candles. It was in her first year of studies that she realized how much she loved candles especially for decorative purposes. At the beginning, Mai produced her unique product by melting premade candles with different colors and scents and then molding them into different designs. After conducting online research, she learned how to make candles from raw materials and where to buy them.
Rafeef, Rafeef's Cuisine
Rafeef, has always been a talented chef in the kitchen. Friends and family compliment her food, often requesting one of her signature dishes for special occasions. She started catering at small events allowing her to earn enough money to expand on the idea and in 2012, Rafeef's Cuisine was born. One day she aspires to have her own line of food products.
Rahma, Jannah Organic Foods
Due to the increased restrictions of movement in the northern West Bank over the years, the market for local foods decreased while import of processed foods increased. That's when Rhama, who studied biology while at university, put her degree to use by making all-natural Palestinian foods such as lebnah, makdoos (eggplants stuffed with almonds), jams and zaatar, while providing an additional source of income for her family. In 2013, with around $300 saved up from holiday and birthday gifts over the years, she was able to start her own line of food products to sell at the local market.
Reema, Yaboos Soap
Reema fell in love with soap making after attending a few courses at a local women's community center in her area. Many of the supplies necessary for production such as herbs, olive oil and honey were bountiful in her village. In 2013, after receiving a small grant from the Ma'an Development Center, Reema finally took the next step and started producing soap. She is still in the early phases of her business, selling small amounts at the local market.
Rola, Al Jana' Rayan [Paradise Honey]
Rola was looking to do something outside of being a homemaker and took a course on honey production with Agricultural Relief in Tulkarem. Rola, who had saved money from birthdays and holidays over the years, purchased two beehives, which have now blossomed into 23. With the help of her neighbor she was able to store them on their land. As she started to produce profits from selling the honey, she repaid her neighbor's favor by employing her. Through networking at events, she is now considering expanding her profession to include flower production.
Sa'eda, Al Marsa Industrial Tatreese
The idea of starting an industrial embroidery business began three years ago when Sa'eda recognized the market need. A custom designed embroidery piece can take several months if done by hand. By using an industrial machine to produce embroidery, it is quicker, cheaper and has a cleaner finish. Currently Sa'eda operates informally out of her home, producing handmade Palestinian embroidery pieces for friends and family. Once she is able to purchase the necessary machinery to industrially manufacture products, she intends to formally register her business with the Tulkarem Chamber of Commerce.
Shurooq, Nawa'em Art
Originally from Nablus, Shurooq began creating stained glass home décor as a hobby over 12 years ago. While attending a local handcrafts course, the instructor, impressed with Shurooq's artistry, began displaying her pieces for sale at the community center. She began selling her pieces in 2005 while attending additional classes to further develop her technique. In 2012, Shurooq even received a small loan from the Palestinian Businesswomen's Association, Asala, to further her business venture.
Solafa, Zaina [Decorative] Soap
Solafa was instantly drawn to the idea of making soap after attending a training course and she valued the concept of integrating the Palestinian tradition with natural resources, such as olive oil and lavender, which are readily available in her village. In September 2014, Solafa sold the gold jewelry that she no longer wears and bought the raw materials to begin producing soap. In addition to olive oil, which is common in many of the soaps made in the region, Solafa incorporates all natural ingredients that are known to have health and beauty benefits. Avocado oil, goat's milk, mint leaves and cactus oil are just a few ingredients that are believed to have beneficial effects such as reducing wrinkles, treating acne and much more.