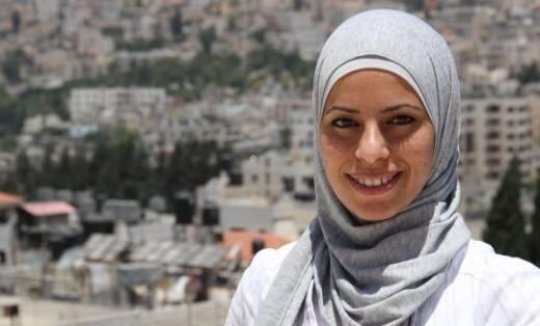 We're please to bring you the story of Sahar Dweikat, an entrepreneur who previously participated in several of our programming for female entrepreneurs in between the years 2010 and 2013. Now, Sahar's business is more thriving than ever and we sat down with her to check-in and see where her business is today.
Tell us about your business.
I founded Panda Nation in 2012. Panda Nation is a company that specializes in branding, graphic design, and animation. We help companies better understand, build, and express their brands. Panda Nation provides our clients with creative, unique ideas to the local market using only high-quality design services. We work with startups and new businesses to establish outstanding, long-lasting brands and provide our services to a wide-variety of companies and non-governmental institutions. We are building a client base for regional and international clients. Panda Nation specializes in logo design & corporate branding, flyers, posters, and product packaging and design. We also specialize in advertising short films, web design and development, and domain registration.
We currently serve clients in Palestine but seek to build a client base that serves international clients throughout the Middle East, North Africa, and the West. As the founder and team leader of Panda Nation, I have three employees working under my supervision. I am also privileged to have two mentors—one based in the United Stated and the other based in Dubai, United Arab Emirates. Both mentors are specialists in business strategy and through their mentorship I have learned how to enhance Panda Nation's marketing strategy.
You recently changed your business name from FlyerAd to Panda Nation. Can you explain why?
FlyerAd just only produced flyers for our clients. As our business has matured and developed, we expanded our services to branding, graphic design, and animation. We decided it was time to have a name and brand that reflected the more comprehensive services we offered. We chose the word Panda because, as a micro-business, we having a growing responsibility to keep the health of our environment and all of its inhabitants at the forefront of our decisions.
What is your greatest success?
I just completed my biggest project to date! The project itself was brokered through TYO. I completed all of the branding materials (flyers, business cards, stickers, packaging, and presentation materials) for twelve entrepreneurs who had recently completed the Women's Incubation Services for Entrepreneurs II (WISE II) business development program. This project taught me how to manage my time while meeting the creative and marketing needs of a large number of customers. The project was also a critical reminder that attention to detail is the key to any successful project.
Also, I recently identified my first investor and they have invested $22,000 USD to Panda Nation which will greatly help improve and accelerate the business. Through this generous investment, we now have a website, social media campaign, and can invest more time and energy into my marketing.
What has been your greatest challenge?
Finding investors has been my greatest challenge. There are a lot of incredibly talented entrepreneurs in Palestine and I am competing with all of them.
Tell us about your experience with TYO's business development programs.
Before beginning my first program with TYO in 2010, my business was merely an idea. Completing two programs at TYO helped me create a business plan, envision a budget, and develop a marketing strategy, helping me take my dream and turn it into a reality. I have created and am a part of a vast network of female entrepreneurs in Palestine and participated in a mentoring program supported by Cherie Blair Foundation for Women. This mentoring program connected me with an entrepreneur in Germany who taught me how to craft and revise a business contract. Through TYO programs, I was afforded opportunities to travel to America and Dubai to attend conferences just for female entrepreneurs! TYO helped me realize that I can conquer any problem my business faces through critical thinking, bravery, and persistence.
Simply stated, before TYO I didn't even have a business and now I have a wide client base, my own office in the city of Ramallah (a business hub an hour from where I live), and a major investor. After completing two of TYO's programs for women entrepreneurs, I am far more confident and self-assured.
Would you recommend TYO's programs to another rising entrepreneur?
Yes, absolutely. I would not be where I am today without the support of TYO.
Want to learn more about Panda Nation? Visit their Facebook page, today.