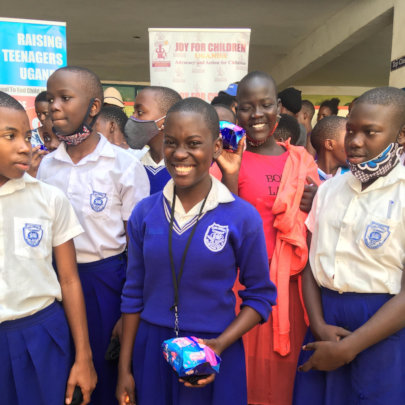 The transition from childhood to Adulthood for girls is usually marked with growth and development and is often met with fear and Anxiety due to the inadequate knowledge about menstrual hygiene and lack of proper sanitary wear; this is in addition to the pre-existing cultural norms and taboos that defame girls during that time of the Month.
In Uganda, one in every four adolescent girls will miss school because of menstruation related problems.(Adolescent Risk Behavior study 2017)
Girls in rural areas face more barriers to menstrual hygiene than their counterparts in Urban settings, Women and girls have less or no knowledge at all bout urinary tract infections caused due to improper personal hygiene during menstruation. Most girls are not prepared for this period as they are not informed or ill-informed about menstruation. In addition, most schools do not have access to the necessary facilities to support girls during menstruation, for insistence clean toilets, supplies and constant water supply. Managing these barriers calls for a multi-stakeholder approach in implementation of policies geared towards ensuring menstrual hygiene.
Teachers provide safe space for learners while at School, therefore they should be sensitize and be trained on how to convey Knowledge about Menstrual hygiene Management in schools and Homes.
Furthermore, Adolescents' sexual and reproductive health rights must be supported in schools to help students learn about their sexual identity and protect themselves from Abuse. This means providing access to sexuality education, empowering young people about their rights including the right to Education and stay in school.
Family is the most important Unit of society as it shapes the moral upbringing of Children. Parents play an important role of passing on information about menstrual hygiene to their Children basing on the cultural norms and family values.
Civil society organizations should also support Girls through Advocacy in menstrual hygiene; Emphasis should be on the use of reusable sanitary towels. Support teachers and community workers in addressing a sensitive topic in a fun and empowering way got girls and young women and that is why Joy for Children-Uganda partnered with Afri Pads and Raising Teenagers-Uganda to preach the message of menstrual hygiene management in selected schools in Kampala slums, Girls were encouraged to observe personal hygiene, taught about proper disposal of sanitary pads, hand washing and diseases related to poor hygiene.
Men and Boys play an important role in promoting menstrual hygiene, Men can support and influence women and girls in managing menstruation in households, schools, work, and community through many roles as husbands, fathers, brothers, students, teachers, and policymakers. It is often difficult to engage Men and Boys in discussions related to Menstruation due to the existing myths about the subject, but by engaging them in to Community Forums and Focus Group Discussions, we can change their perception about Menstruation. Therefore, comprehensive programs that engage both men and women should be organized related to menstrual hygiene.
There is a huge task to encourage all the key stakeholders in ensuring menstrual hygiene management practices, subsidies should be given on menstrual products so that every girl can access them. Campaigns on safe water and sanitation should be re-emphasized by the NGOS Community leaders.