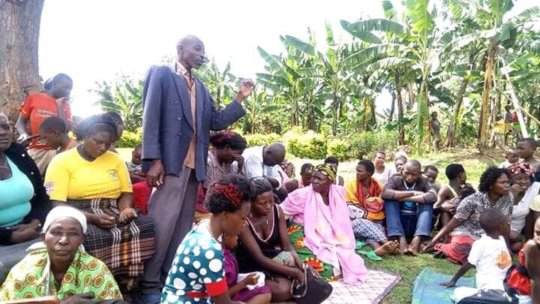 Given the African setting, child upbringing is the community's resposibility, the reason why Joy For Children Uganda opted to include community dialogues in the Delay Marriage Promote Schooling for Girls and Boys campaign.
Dialogues of 20-40 community members were held in sub-counties of Mususu, Kibiito and Kihondo. During the dialogues, participants were introducted to child marriage and the impact it has on girls, family and community.
The objectives of this community dialogue was to give the community the opportunity to access information and discuss openly a wide range of issues which particularly affect girls in their community and develop solutions to the problems discussed. The outcome of these dialogues would lead to more democratic community and house hold decision making processes not only for the girls' well-being but also boys'.
Among the participants were; LC1 chairpersons, child protection committee (CPSC) members, village health teams (VHTs), Para social workers (PSW), family and protection officer, teachers, Health workers, Church and opinion leaders, police officers, students and community participants
The communities were given an opportunity to share social norms and traditional practices that perpetuate child marriage.
The major achievement of the dialogues was reached when it was resolved that:
a) The local leaders were to take lead in using different platforms like burials, parties and leaders' meetings to sensitise people on early marriage.
b) Local leaders were to also plan for village meetings to sensitize parents and children as well.
c) Religious leaders were tasked to matters of delaying marriage and promoting schooling for girls and boys in their sermons since churches are soft grounds for passing on information where information is easily passed on during such days or occasions.
d) Parents should be friendly to their adolescent girls so as to make them freely share the challenges they face daily.
e) Every member of the community should be responsible enough to always identify a problem, give the necessary advice, guide, and report, refer and follow up cases at police stations as one of the effective ways to end child marriages and teenage pregnancies..