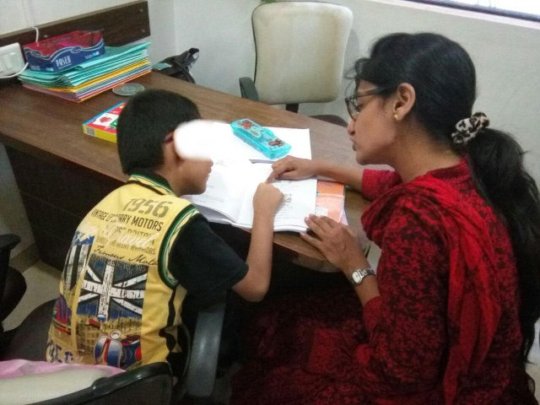 We are extremely grateful to your support to the Bal Asha Child Development Centre. The centre has shown exceptional outreach by reaching to children with disabilities in and around Mumbai. A total of 736 therapies were given to children from September to November 2016.
Parents who are bringing in children are not only from Mumbai, but from far villages, due to lack of funds and facilities. One such father is George.
George lives in Mumbai. He works as a domestic help for a family. He had come to Mumbai with a dream to make it big, nothing much changed for him. He was married and has a beautiful daughter Aloma. Aloma lived in a village with her mother in Bihar one corner of India and far from Mumbai. Aloma had developmental delays. She could not walk. The fact that hurt George most was that he could not help his daughter. He had no home, no funds and did not even know what to help his daughter.
But he kept on talking to people he would meet about his daughter and enquiring what could help her. He soon came to know about the Bal Asha Child Development Centre. He met the social worker and shared about the developmental concerns he had for his daughter. The social worker at the centre are professionally qualified to support parents. She assured George that the centre will help his daughter, but for that she must come to Mumbai. The treatment will be free and hence he did not worry about the funds.
George saw a ray of hope for his family. He spoke to a friend's family who were kind to allow his wife and child to stay with them while he continued to stay at the place he worked.
Aloma came to Mumbai. The social worker provided the family with complete support in arranging assessments and therapies from the team at the centre. After months of hard work of the centre team, Aloma showed improvement. Even a small achievement in her development thrilled George and his wife.
During the treatment Aloma crossed a bigger hurdle to go through an orthopaedic surgery to help her reach her true potential. Bal Asha arranged financial support from local donors so the family was not burdened financially.
Aloma has now started walking and is improving through a home programme given to the family. Aloma had to return to her village, but before going they visited the centre and expressed their gratitude to the project team and supporters of the project.
Thanks to your support Bal Asha Child Development Centre could provide Aloma and many other children support.
The centre between September 2016 to November 2016 gave below number of therapies to children with disability.
Paediatric Development Assessment: 64
Physio Therapy: 141
Occupational Therapy: 214
Speech Therapy: 64
Psychological Therapy: 82
Remedial Therapy: 164
Testing: 7
The total visits which happened during the three months is: 736
Your support is crucial for the centre to keep providing children with developmental therapies for a better future to the children and hope to their families.