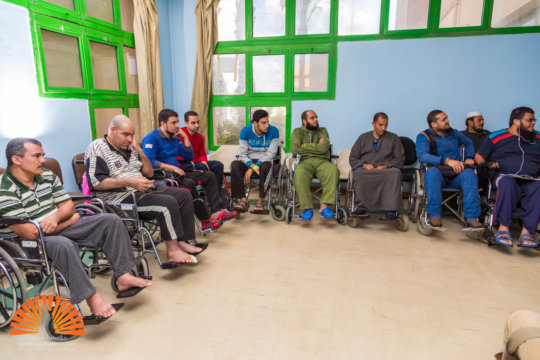 Dear All,
Hope you are all doing well.
I will keep it very short this time because I believe the title says it all!
If anyone of you got the chance to go through the experience of using a wheelchair in Egypt,
you will sure know why as a foundation we r so very focsed on giving a glimpse of hope to wheelers.
I trust that you and others will support us because the challenge is so so so difficult for them.
They are facing not only a physical challenge but also a human/facilities one.
Thank you for taking the time to read my words, spreading our project & sharing as much as possible.
Regards,
May
Alhassan Foundation for Differently Abled Inclusion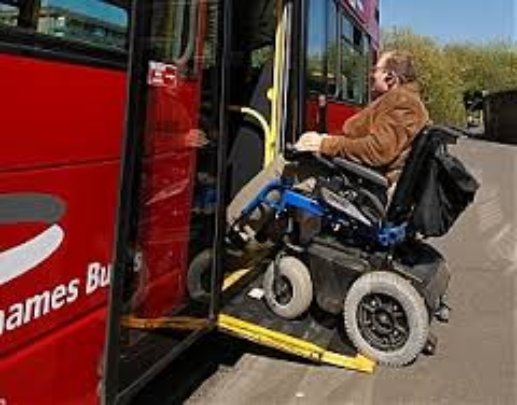 Links:
Dear Donors
& everyone interested in supporting humans with physical challenges around the whole world :)
It has been a while since Alhassan Foundation last report because we were busy trying to contact more companies around the globe to get updated and less expensive quotations for our 1st accessible bus in Egypt.
Our intensive effort had its fruit-full results and we managed to find a company in Dubai who offered us a new quotation for a "Toyota Coaster" latest model accessible bus accordingly you will be finding a very positive update in the donation amount we ve been requesting. And by positive I mean a cheaper quotation for an accessible bus :)
Attached u will find a couple of pics of the new bus. Alhassan Foundation is depending on you, your family members & work colleagues in covering the cost of the bus.
We are currently in the holly month of Ramadan, so it's a great & beautiful chance to share with the foundation the zakat % ; sadaqat & zakat Alfitr.
I am thank-full to each and everyone, we have reached $8.000 during the past 6 month. I wish we can double this amount during the month of Ramadan.
Blessings to u, ur families & loved ones :)
May
Links: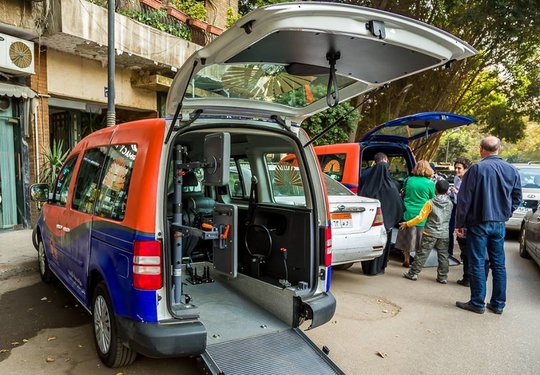 Hi everyone :)
I hope you still remember us since our last report in November 2014; https://www.facebook.com/pages/Alhassan-Foundation-for-Spinal-Cord-Injury/428862897190331 "Alhassan Foundation - Egypt" who are 'ving very high hopes to purchase the 1st wheelchair accessible bus! We aim to add some humanity to the day to day living of great human beings!
Since our previous update ..... We have some very good news & also challenges that we are determined to work on. I ve decided to start sharing our foundation good news 1st :)
1. December 2014; "International Day of Disability", we managed to present Alhassan Foundation & its projects live on TV on one of the most seen programs/CBC. After the program, we were lucky enough to get the buy in & support of our Social Affairs Minister - Mrs Ghada Wally - who decided to back us up in our efforts/projects.
2. Foundation managed to hire 2 young wheelchair users among our employees in order to walk the talk & put our words into action. So Our accessible car (see pic attached) picks our employee & drops her back home daily as part of her work package respecting that she is a wheelchair user who needs transportation facilities & there is none in Egypt until today that offers such facility - except our foundation.
As for the challenging news ... Last quarter, we were not able to get enough dontation for our project "1st accessible bus"! So we kindly ask u to support us more by spreading the word across ur business colleagues; friends and family ....
We know that we are aiming high & we know that it is not an easy task to achieve ... yet we r all hope to reach our target during 2015 coming 3 quarters. SUPPORT US by sending to everyone & spreading the word ... plzzzzzzz :)
Write to u next quarter again wz more good news
Wish u & ur loved ones health & happiness
May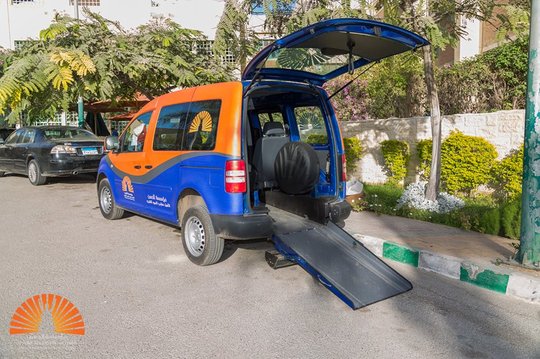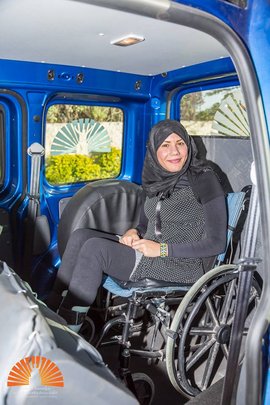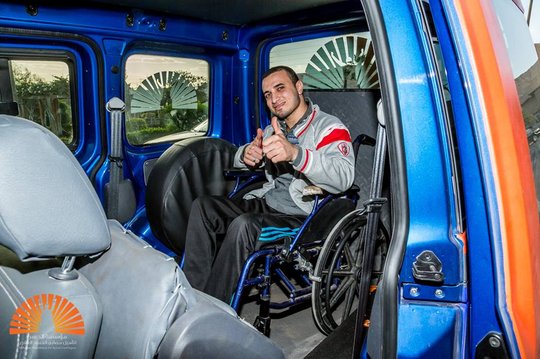 Links:
WARNING: Javascript is currently disabled or is not available in your browser. GlobalGiving makes extensive use of Javascript and will not function properly with Javascript disabled.
Please enable Javascript
and refresh this page.