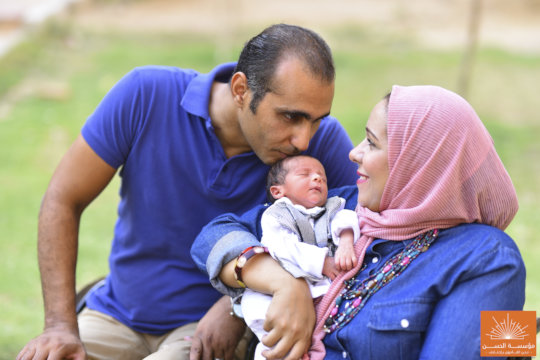 Dear all Alhassan Foundation's friends, believers & supporters,
Join us in welcoming baby boy Malek to the world! Malek is the firstborn baby of our bliss program. Bliss is a program under Rise Up that aims to empower wheelchair users socially and physically and make their dreams of having a baby come true!
As we all know, reproduction is an instinctive need and a fundamental part of the complete inclusion system for any human being. Some differently-abled couples dream of seeing their offspring but aren't able to naturally conceive and they can't afford microinjections. So, as part of our efforts to socially empower wheelchair users we started helping suitable candidates through the microinjection processes by paying for any needed procedures.
Our first two applicants, Abeer and Mohamed, they're both wheelchair users and they've been trying to have a baby for almost three years. They applied when they heard about Bliss in the hope of finally being able to see and hold their own child.
When Malek was born, the joy the young couple were in was indescribable. Abeer, the Mother, was in tears when she held Malek in her arms. The couple couldn't believe they were finally holding their baby, that what used to seem impossible became possible.
That inspiring couple embodies the effective inclusion we seek. They are active, both are swimmers with gold, silver and bronze medals, they both have jobs that let them support themselves and their child. Them having a child was what they felt was missing in their life and now they feel whole.
We encourage you to continue supporting us and staying loyal donor to our causes through subscribing to a monthly recurring donation option. That will help wheelchair users in Egypt be more independent and successful. Please visit our Facebook page to read other success stories:

https://www.facebook.com/AlhassanFDN/

Thank you for believing in the differently abled. :)