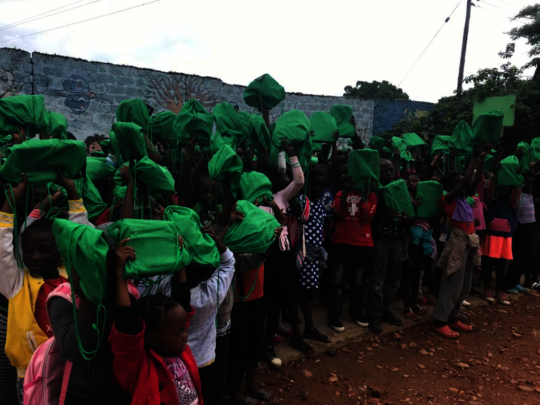 The long awaited green bags of California unfortunately missed the Christmas party. Little did we know that they would arrive just in time for the first day of school!
A California business, NextRoll, generously packed and shipped to Chikumbuso 500 green knapsacks filled with school supplies; pencils, pens, sharpeners, erasers, scissors and more.
Imagine 500 green bags parading their way through the compound to our local K-12 school! As our classrooms are free to all who attend this donation of school supplies for each and every child is such a blessing to our students, teachers, and budget! What would we do with out the generosity of others?
This community, Chikumbuso, is located on the outskirts of Lusaka, Zambia called Ng'ombe. It started with 7 widows who had no resources, no assets, no English skills, and no community support.The transformation that transpired over the past 15 years has brought about a truly loving community of support and encouragement to those affected by AIDS whether they be our widows, single moms, students, or grandmothers. Chikumbuso was formed by the women of the community and they have kept their connections with the broader public by remembering others affected by AIDS and the long term commitment to changing lives.
You can be a part of this community. Your gift may not be 500 Green bags but it will be, just the same, a blessing to our students and classrooms. Please help support our ever growing outreach to those who would not be able to attend school without us.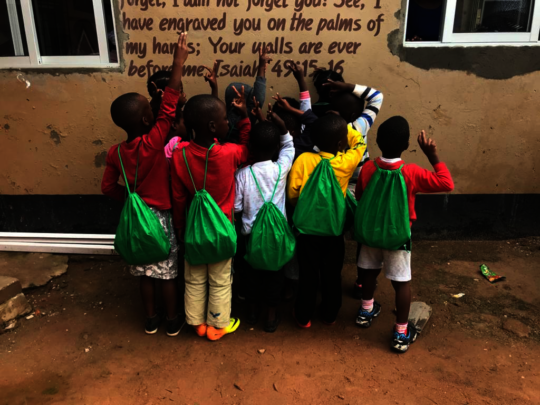 Links:
A big thank you to all of our donors. Our school program and ability to offer middle school and high school sponsorships could not happen with out you!
Just last week Trudy, our General Manager, went out to collect the report cards of our students attending the various middle schools and high schools in the area and was pleasantly surprised by what she found. Unbeknownst to her one of our sponsored college students was in the classroom with two of our girls handing out report cards. This young college student was,in fact, doing her student teaching at one of our local schools. Neither the teacher nor the students knew that they had all originated at Chikumbuso, it was Trudy who made the introductions. What a wonderful surprise and Trudy was so encouraged to hear the girls (and the grandmother) thank Chikumbuso for the opportunites that Chikumbuso is offering the youth of Ng'ombe.
Remember that lovely smell of brand new textbooks? And the sound that the crisp new pages made as you turned them?
We are so happy to report that Chikumbuso has received new fourth grade textbooks from the MInistry of Education in Zambia! The students were so happy to see these new clean pages! The success of our classrooms is due to all of you who contribute to the food program, teacher's salaries, new books and supplies. We can not do it with out you.
The speed in which our students are graduating from high school and moving on to college is astounding and due to a great part to our faithful teachers in our own K-7 school.
Finety is one of our teachers. She has been with Chikumbuso since 2008 when she graduated from teaching college. As our grade six teacher she flourishes with a number of other responsibilities including being our after school scouts leader. Finety has a large heart as she spends much of her free time helping those students who may be struggling to catch up with their peers in various subjects. We are so pleased to have her as a member of our team!
Please help support our classrooms by giving to this project.
Links:
WARNING: Javascript is currently disabled or is not available in your browser. GlobalGiving makes extensive use of Javascript and will not function properly with Javascript disabled.
Please enable Javascript
and refresh this page.