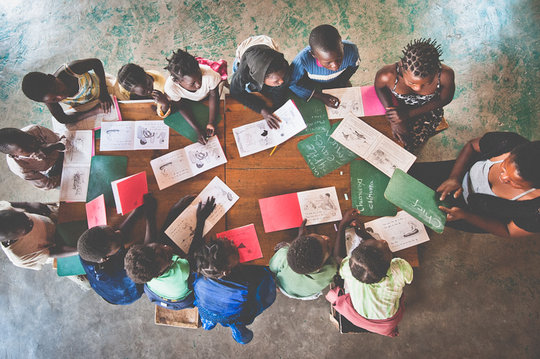 As Americans gear up for the holiday season, here in Zambia we are gearing up for the end of the school year. Our students are excitedly studying for their exams, teachers are wrapping up lesson plans, and everyone is dreaming of the new year and the new hope it brings.
This year has been a successful one for our school, we welcomed more students than ever before, and they continue to amaze us with their discipline, their dedication to their work, and their gratefulness for being able to study. They know that their plans for their future are not written in pencil any more, easily erased. They are firmly inscribed in ink pen - with the help of donors like you. So many other things in their lives are uncertain and quick to be undone. But through your support we can stand behind our kids, committed to their education and their futures.
If you haven't yet donated to the Classroom Sponsorship program, I encourage you to do so. By supporting a classroom, you are guaranteeing those kids the opportunity to learn, grow, and plan for their lives.
Links:
Every time I visit Chikumbuso I am surprised by some aspect of the project. This time it is the maturity and eagerness to learn that I see demonstrated in our students. Ten years ago, at the outset of Chikumbuso, there were 30 very bedraggled students ranging from six to ten years of age. They were frightened by the white woman, thankful to be invited into school, and hoping for food for lunch and a bit extra to take home to their families.
Today these same students and 420 more portray a new picture. These students are bright, well dressed and healthy. One of these students is Teddy a 17 year old eighth grader. Teddy grew up in the far eastern corner of Zambia with a single mom and a younger sister. Life was a struggle and he did not go to school. At seven years old his uncle came to the village to take him to his father in Lusaka where they hoped he would be able to finally get an education.
Teddy said nothing changed. His father did not have the means to send him to school. What a disappointment. One day his neighbor, a teacher at Chikumbuso, came and took him to school. He did not speak English and he could not read but the teachers at Chikumbuso were tender with him and today Teddy is ranked number one in his eighth grade class. Given the opportunity of a life time he grabbed hold of it. He works hard and his peers respect him.
Your donations help to keep Teddy and others like him in school.
Thank you so much.
Links:
As part of our reworking of our fundraising objectives, we are going to be combining this project with our Secondary School Sponsorship project. The 150 secondary school students that we fund are in need of sponsorship for their education, as well as provided school supplies. By combining the two projects we hope to encourage full sponsorship of each child, which will provide them not only with schooling, but also with monthly supplies for their home such as food. Thank you for all of your donations to this project, and please make sure to check out our new more stream-lined fundraising goals!
WARNING: Javascript is currently disabled or is not available in your browser. GlobalGiving makes extensive use of Javascript and will not function properly with Javascript disabled.
Please enable Javascript
and refresh this page.