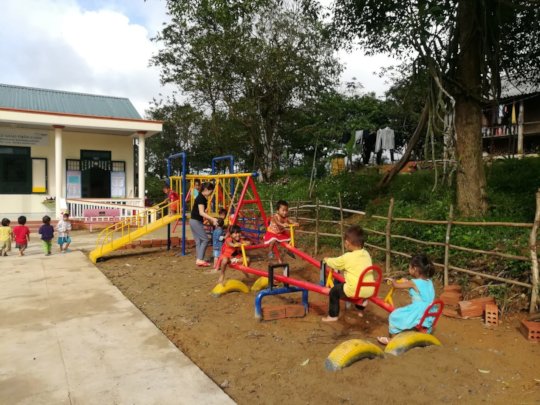 Since early September, classes at our PeaceTrees Vietnam kindergartens have been in full swing! These kindergartens service hundreds of young children in Quang Tri Province, Vietnam most of whom are part of ethnic minority groups. Our classes teach the children Vietnamese so that they are more likely to succeed in their further education. It is only with your generous support that we have been able to consistently open new kindergartens since 2002. Our most recent kindergarten is the Dash Friendship Kindergarten in Cooc Village which opened its doors in the Fall of 2018. Before the construction of the kindergarten, only 14 kindergarten-aged children out of 53 in the village were able to attend school, and had to travel up to 2 kilometers each day to do so. Since its opening, the Dash Friendship Kindergarten has provided a safe place for the kindergarten-aged children in Cooc Village to learn and play. In addition to the construction of the new school building, the kindergarten also enjoyed the construction of brand new playground equipment. The play structure is specifically designed to be safe for young children and offers a fun place for the children to play between classes and after school.
Your generous donations make it possible for us to continue to expand our kindergarten programs. We hope that you will consider giving to PeaceTrees Vietnam to provide opportunities for success to even more children all across Quang Tri Province, Vietnam.
Thank you for your support!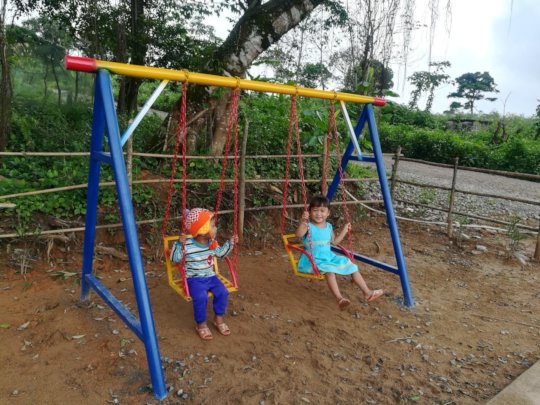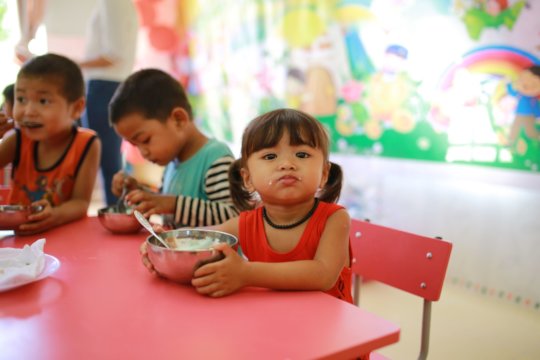 School is back in session! On September 5th, we welcomed students back to our 14 kindergartens in Quang Tri Province Vietnam. We are thrilled to report that two of those kindergartens are new and opened their doors to students for the first time this year! It is with your continued support and generosity that these children are able to have access to early education and developmental programs. Your donations go towards teaching materials, supplies, and many other resources that ensure a safe space for children to play and learn. Your funding also goes towards our highly important Kindergarten food program! All of our kindergarten students receive a nutritious meal that is prepared everyday by their teachers, that includes protein, rice, and vegetables from the local market. Many of the students come from impoverished backgrounds, so these daily meals are not only crucial in providing them with the energy to learn in the classroom, but are also important for their overall growth and development.
We are so happy to see our students back in classes for the 2018-2019 school season! We hope that you will consider donating so that we can give even more children access to a better education and a better future.
Thank you!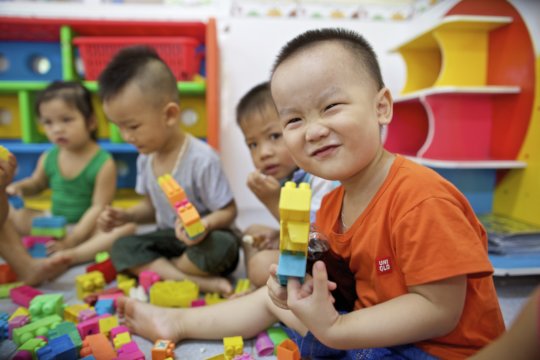 PeaceTrees has made a positive impact for the lives of over 325 children in Quang Tri Province because of your support for scholarships! We will be awarding scholarships to more children this month, and there is still time to support a children's education through our work. Because of your help, each child affected by unexploded ordnance will be able to attend school during the 2018-2019 school year. Unexploded ordnance accidents impact a family's livelihood, as having an injured child or family member makes it extremely difficult for the family to recover economically. PeaceTrees ensures that these children can attend school and break the cycle of poverty for families still hurting from the aftermath of war. PeaceTrees scholarships include a full-year of tuition, textbooks, notebooks, uniforms, meals, and additional administrative fees that these children would otherwise be unable to afford.
To reach our goal, we want to give scholarship to just 75 more children this year! Please consider making a gift of $50 to help the children of Quang Tri have access to education this coming school year.
WARNING: Javascript is currently disabled or is not available in your browser. GlobalGiving makes extensive use of Javascript and will not function properly with Javascript disabled.
Please enable Javascript
and refresh this page.