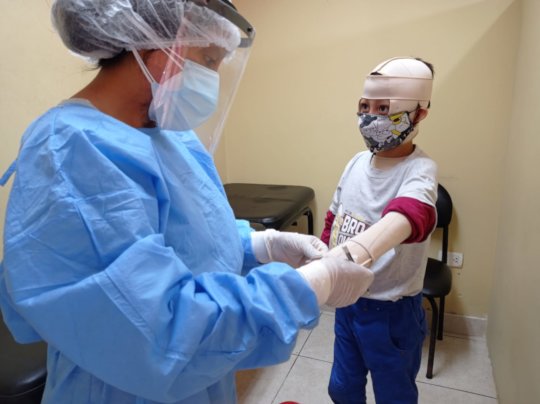 We sincerely hope that you are feeling very well this days!
Did you know that 60% of children who burn are under 6 years old ?, and it is unfortunate that due to the pandemic, burn accidents have increased by 30% in Peru. Angelito is one of our patients, who was burned with direct fire while helping his work´s father, he burned 37% of his body and unfortunately many children burn daily.
For his recovery he needs to wear compression garments for at least 3 years. The compression garments are made to measure, that is, they are made individually, where the therapist must take the measurements, test, sew, fail and deliver.
This project will cover 4 sets of elastic garments for 150 burned children from the districts of San Juan de Lurigancho, Villa El Salvador, San Martin de Porres, Ate, Villa Maria del Triunfo, and Comas, which are the areas with the highest incidence, making a total of 1200 sets of garments for the first year of treatment.
At ANIQUEM we have been making compression garments with great affection for more than 20 years and we are very happy with the results throughout this time.
That is why we say thank you very much for your important support!
Please take care and all the best.
With gratitude,
The whole Team ANIQUEM
Links: