Dear Friend,

Thank you. We cannot say it more sincerely. Thank you very much for your response to our recent appeal for a street children's school in Kabul.

Our school for street children is close to turning its half a year anniversary and we are proud to continue Kabul's street children reintegration process.

Below you will find Ismail's story. His story is about how willingness to learn new things had battled unfavourable circumstances and difficulties of Afghan reality.

Ismail, ages 12, is an Afghan boy from a poor family. He has 3 sisters, mum and dad, who is jobless and tries make money for the family selling vegetables and fruit on the street. The family is internally displaced. They moved to Kabul 4 years ago from Samangan province in the north of the country. The family was forced to pack their modest belongings and change the place of living due to a war conflict lasting in their home region. Ismail's parents were seeking better security for their young children as staying in Samangan was too dangerous and uncertain for them.

Since Ismail's father was not able to find a job in Kabul, he grabbed different gigs on the street. Ismail, as an only son, also felt a need to help his family. He has been working as a shoe shining boy on the Kabul's streets. His daily income ranges between 70 to 100 Afghanis ($1 to $1.40), with which he can buy some bread on the way back home.

As Ismail was unable to attend a public school due to the need to earn some money in order to support his family, he joined AfD's street school in January 2017. He was very happy to get a plate of hot food and learn some literacy and maths skills that are so important in everyday routine.

Suddenly, Ismail stopped attending his lessons. Nobody knew what had happened to him. Fortunately, recently he returned to the school and asked to re-enrol him. As it turned out, a car had hit him while passing a street, and his foot was injured. Ismail undergone a surgery to be able to stand again on his foot. The family spent around 30,000 Afghanis for his treatment and got in debts because of this reason. The Ismail's condition requires the second operation at the same cost in the nearest future.

Ismail lives in Gozargah in Kabul. Every day he crosses kilometres to get to his place of work. His biggest wish is to go to school on the daily basis because he enjoys studying. While attending the street school, Ismail has learnt how to read alphabet, spell his name and some do basic maths. Studying with other children gives him a hope that one day he will get a proper education and won't be working on the street again.

Dear Friend, when you support AfD's Street Children Back to School project, you help children like Ismail to get a chance for a better future.

Join us. Donate today. Help Ismail and other Kabul's street children turn their dreams into reality.

With gratitude,
AfD's team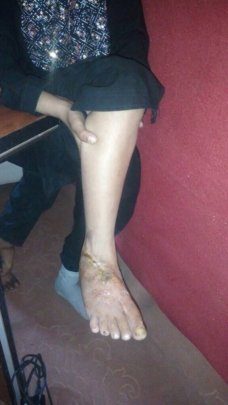 Links: