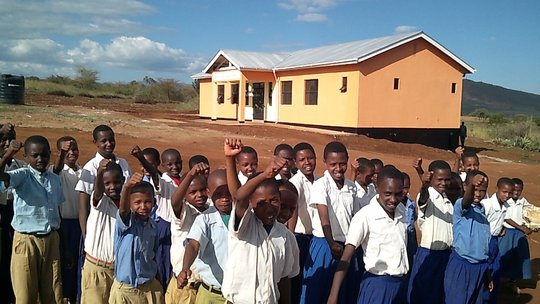 Dear our partners and friends!
Happy X-Mass! It is my pleasure to say THANK YOU SO MUCH for travelling with us for the whole year 2014. It was a wonderful experience for us working with school children in my rural community in Tanzania. We learnt a lot from them while doing solar lantern business. We got attached to their lives, their sorrows, and their joy (consider the attached photo - we had an opening ceromony of their school built by Primary Schools for Africa - our Canadian friends). HOW HAPPY OUR KIDS ARE! HOW THANKFUL WE ARE FOR YOUR CONTRIBUTION TO BRIGHTEN THEIR LIVES WITH YOUR SUPPORT TO DISCOUNT SOLAR LANTERN PRICE!
The kids are highly benefiting from the discount we give to help them afford purchasing their lanterns BUT recently we are getting worried that we may not continue selling at discount rate. Unless we get significant support from our partners and friends in 2015, we are forced to sale at the market price just as our competitors because we need to support our sales person (salary, meals, accommodation, travel, etc).
Nevertheless, we appreciate your AMAZING support which touched MANY lives of young and vibrant future Africa.
THANKS AGAIN for your consistent interest to our activities.
ASANTE SANA.
Hilonga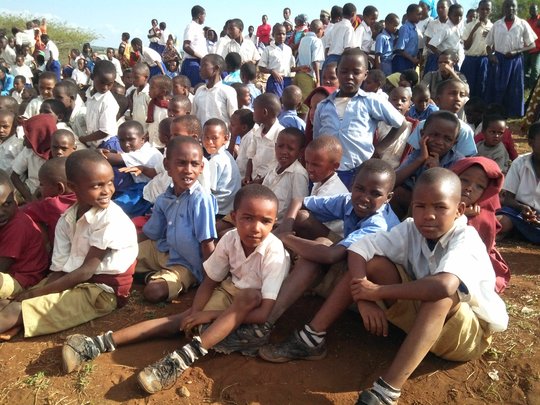 Links: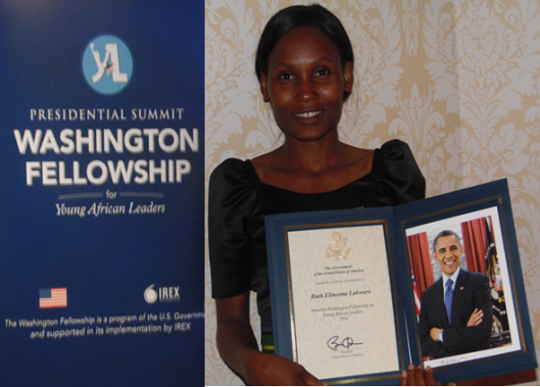 It was celebration all over when one of our members Mrs. Ruth Elineema Lukwaro was selected to represent our organization at Young African Leaders Initiative (YALI) at Washington Fellowship, 2014.
Ruth's strength was on bridging our partners with the Tanzanian grass-root community. In particularly, our lantern project with our USA partner, GlobalGiving, was highly appreciated. More updates are available on our website www.gongalimodel.com.
We highly appreciate all of you who made this miracle a reality. At the beginning we could not imagine how far will this project take us to. THANKS for connecting us with more networks in USA through the YALI fellowship.
We will continue to appreaciate your constant support for this very important project that aims to provide solar lantern to EVERY Tanzanian school child.
Your generous support will help us spread quickly to other villages of Tanzania - there are more than 1,200 villages and we only served 2 villages. At present we are limited only to 2 villages due to the financial constraints, as we demonstrated in our project proposal.
THANKS, ONCE MORE, FOR YOUR GENEROUS SUPPORT!
Hilonga
Links: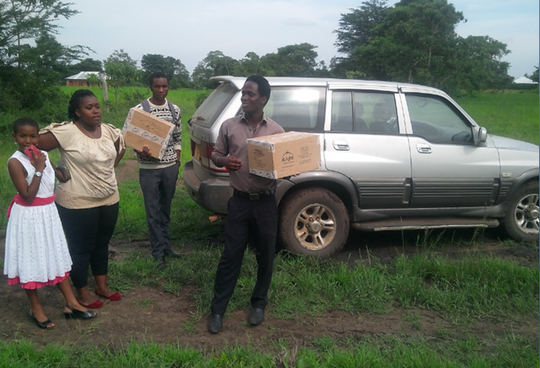 Dear our partners, GlobalGiving, Donors, Supporters, and ALL interested parties
WE ARE PROUD OF YOU!
This month we are reporting our exciting development. We already sold out ALL solar lanterns you purchased for us with your first $5,000 donation. As we promised, we were able to sell the solar lanterns to kids at discount price.....below the market price. The money we collected has now become a seed capital/revolving fund. The lanterns were sold out through local entrepreneurs such as those at the attached picture who are the students of the University of Arusha. We are so proud of their enthusiasm which is now becoming a MODEL for other students to follow. With the seed capital we collected, we are now able to provide interest-free loans for solar lanterns business to those local entrepreneurs.
Your future support will help us increase our seed capital and be able to provide more and bigger loans to our hard-working local entrepreneurs WHILE at the same time PROVIDING DESPERATELY NEEDED SOLAR LANTERNS TO OUR KIDS!
THANK YOU SO MUCH FOR YOUR RELENTLESS SUPPORT!
ASANTENI SANA!
Hilonga - for TAHUDE Foundation (www.tahudefoundation.org)
Links:
WARNING: Javascript is currently disabled or is not available in your browser. GlobalGiving makes extensive use of Javascript and will not function properly with Javascript disabled.
Please enable Javascript
and refresh this page.