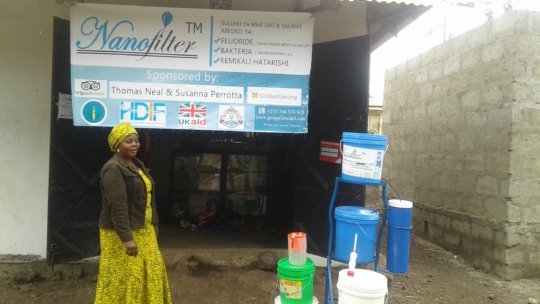 This quarter is so very unique because for the first time we have received a powerful support from the members of TripAdvisor. We see this as a breakthrough because TripAdvisor is highly respected in Tanzania, our country being a tourist country with wonders like Mount Kilimanjaro, Serengeti, and Zanzibar. TripAdvisor's support opens a new avenue all together and has boosted our credibility significantly.
As you can see in the attached photo, we are branding with TripAdvisor LOGO the water stations sponsored by its members. We are so grateful to GlobalGiving (and have acknowledge it also in the branding) for connecting us with these world-renown organizations with global reputation.
We will make sure that those water stations branded with the LOGOs of our dedicated sponsors are working problem and reflect the reputation of the sponsors. In the photo Rehema is already so proud of her well-branded water station. She is now receiving more customers than ever before.
THANKS FOR YOUR GENEROUS SUPPORT TO OUR NANOFILTER WATER STATIONS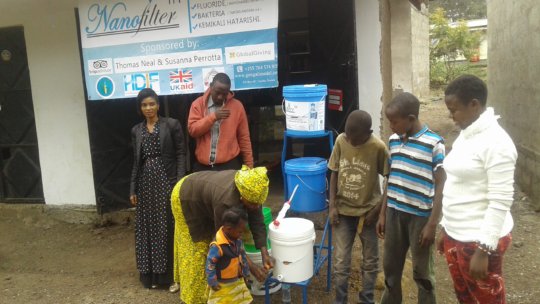 Links:
This quarter was extremely exciting!
We made new records in our solar lantern initiative after the lattest generous fund-raising sponsored by GEV/GlobalGiving. We received 50% bonus which, beyond helping us discount solar lanterns, we have been able to send 10 students and 2 teachers from Edith Gvora High School in Gongali to attend the Science Exhibition at the Nelson Mandela African Institution of Science and Technology (NM-AIST) in Arusha, Tanzania. The funds enabled students to purchase facilities for practical demonstration at the exhibition plus other costs.
The exhibition was graced by high profile government leaders who were so proud to learn our humble commitment to serve communities in rural areas, particularly our commitment to young people. Our students demontrated how to MAKE SOLAR LANTERNS IN TANZANIA using locally sourced materials. As demonstrated in the attached photo (adults posing in photo with students in uniform), the Karatu District government leaders came to NM-AIST to see how our students are proceeding. They appreciated our effort and pledged to scale-up the project to cover more schools in Karatu District, beyond the Gongali Village.
We are so grateful to all our sponsors who supported us so far - and our future is brighter. With the current on-going fundraising, which also will receive 50% bonus, we expect to scale-up our activities to other villages in Karatu District. School children are in desperate need for the solar lanterns. We cannot afford to sit back until we remove all kerosene lamps that are harmful to children's health and are expensive and dangerous (many houses are being burnt down by forgotten lamps, candles, etc.)
THANKS FOR YOUR RELENTLESS SUPPORT
Links:
It is the take off of our water stations project in Arusha region, Tanzania. We are so grateful to GlobalGiving, its partners, and sponsors for initiating this program and now it is attracting the global attention.
We are now receiving requests from many other regions in Tanzania and from other countries to establish the water stations and/or at least sale the filters directly. So, THANK YOU SO MUCH for supporting us at the time when our project is hardly known to anybody.
With your support we have been able to start few pilot projects around Arusha region and we are now seeing a brighter better future as we are attracting more interested partners.
In the attached photos, and on our website www.gongalimodel.com, you will see the training we are regularly conducting to empower the local entrepreneurs who are running the water stations. Up to now, we have 70 water stations; which is equal to 70 employment opportunities to local people in Tanzania (Local Entrepreneurs). The entrepreneurs purify water and then sale to their neighbors. They pay back about 10% back from their daily sales. This helps for maintenance and sustainability of the water stations.
Please kindly expect more updates through our future reports as we continue to open more water stations to reach more and more people with safe and clean water, even in rural Tanzania!
THANKS FOR YOUR RELENTLESS SUPPORT - ALL THE TIME!
Links:
WARNING: Javascript is currently disabled or is not available in your browser. GlobalGiving makes extensive use of Javascript and will not function properly with Javascript disabled.
Please enable Javascript
and refresh this page.