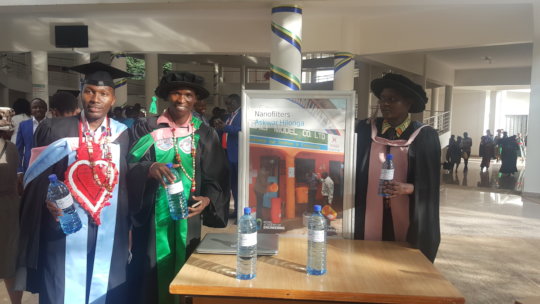 Among other things in quarter, we are so grateful to end-up 2017 with a sweet memory of showcasing our Nanofilter innovation at the 4th Graduation of The Nelson Mandela African Institution of Science and Technology - please enjoy some photos we took with the graduates. THANKS to GlobalGiving and its partners and donors for relentless support in 2018. Moreover, we are glad that we have opened 30 Nanofilter water stations in various places in Arusha region. This has considerably increased access to clean and safe water to thousands of people! We are so grateful to all our partners - HDIF / UKAid, GlobalGiving, USADF, etc and all individuals who supported us generously in 2017. We are expecting a brighter year ahead of us - 2018. THANKS FOR YOUR GENEROUS SUPPORT!
Attached, please kindly consider very recent photos:
(i) Nanofilter water service at NM-AIST 4th Graduation
(ii) Recently opened Nanofilter Kiosk at Metropole in Arusha City
Key Highlights of the success story of Nanofilter Project by the end of 2017
30 Water Kiosks were established; The target is 100 stations by April 2018.
37 Active water stations run by local entrepreneurs are allowed to continue with operation; the rest are not active / closed
Nanofilter beneficiaries: 11,641 (7,506 men and 4,135 women); Direct sales: 313 Nanofilter units to households and 72 filters to 41 institutions (schools, tour companies, etc)
The project has created and maintained employment to 118 women and 52 men - including the remaining local entrepreneurs
Young ladies (women) have turned-out to be the best in operating the water stations
Links: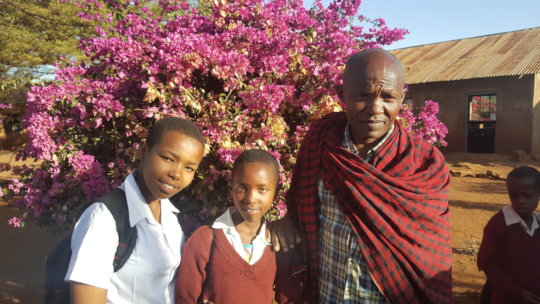 This quarter our brilliant student at Edith Gvora High School (name reserved), conducted a wonderful experiment to see how school children's performance improve when they were given solar lanterns. She only chose school girls because she felt it is important to help girls have more time for study so they can pass their examination and go to higher level of education.
TAHUDE Foundation provided her with 60 solar lanterns (purchased through generous support from Women in Science - WiSci 2017 Small Grant) for experiment and mentorship. She compared the performance of girls in their first examination (before she gave them the solar lanterns) and after they use solar lantern for one month. She also evaluated the attendance of parents in the meetings she conducted with the girls at Gongali Primary School.
Detailed for the findings of this experiment is available at your request, if you need it. Please write to ruthelineema@gmail.com or hilonga@gmail.com if you are interested. But in short, the students who failed in their first examination performed very well (some of them up to 200% increment on examination marks they scored) after they were given solar lanterns so they had extra time for study and preparation for the second examination.
Please kindly write to us if you are interested to hear more about this fantastic experiment.
PROBLEM THAT WAS SOLVED:
The problem is caused by poverty and ignorance (lack of awareness). Parents of failing girls are poor. They cannot afford to buy light for their children study during extra time. Those who might be able to buy at least a solar lantern are not aware of where to get those products and if it can help to improve the performance of their children in school.
Many girls in primary schools in my village fail examination because they have no enough time to study at home. There is no electricity for them to study at night and during the day the girls help their parents to do home activities like fetching water, cooking, and taking care of small children (babies). In the night and early morning those girls have free time but again they cannot study because it is dark and there is no electricity. Lack of electricity in my community is a big problem affecting the performance of pupils.
Girls in Primary schools in my village fail because they have no time to study at night or early morning because they have no light for study
THANKS FOR YOUR GENEROUS SUPPORT TO MAKE BIGGER IMPACT IN 2018!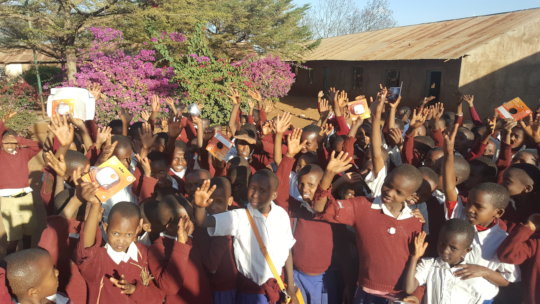 Along with the wonderful support we are receiving from our GlobalGiving donors, we are glad to report a generous grant from United States Africa Development Foundation (USADF) to boost our biogas project in rural Tanzania. TAHUDE is promised $ 124 k to benefit hundreds of households in Northen Tanzania from 2017 - 2020. USADF was convinced to extend its support after witnessing the benefit that was evidently gained by the biogas beneficiaries. USADF officials physically visited the beneficiaries and were convinced that it is a worthwhile project to continue receiving support from the People of America through USADF - we are so grateful on this.
As TAHUDE Staff, we continue to extend our gratitude to GlobalGiving and its generous supporters for helping us built our case - that biogas is a worthwhile project that can reduced human pain, particularly to mothers and girls who cook by using firewood. In our previous report (please consider our website http://gongalimodel.com/Biogas.html) we have given some statistics on 89 beneficiaries and the IMPACT to the environment.
We expect extended generous support from our partners on GlobalGiving in 2018, and we promise to update you from time to time. Please kindly feel free to share our success story with all your partners, family and friends. And please kindly drop-by our biogas project when you visit Tanzania, at anytime of your convenience.
ASANTENI SANA!
WARNING: Javascript is currently disabled or is not available in your browser. GlobalGiving makes extensive use of Javascript and will not function properly with Javascript disabled.
Please enable Javascript
and refresh this page.