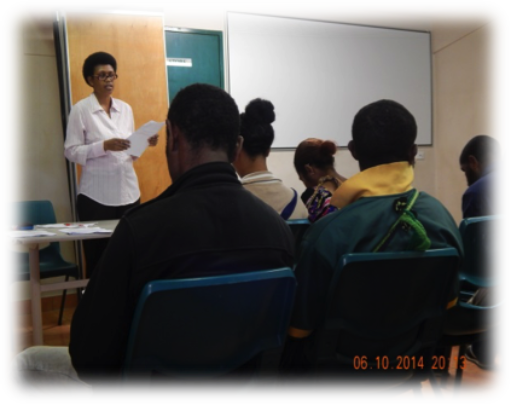 Bismarck Ramu Group [BRG], University of Goroka Engagement: 2015 - 2017:
BRIEF:
1: Background-History
Bismarck Ramu Group has reached another milestone in its Education Program with an opportunity to teach at the University of Goroka PNG. This is an outcome of a long history with Research Conservation Foundation [RCF] a partner NGO, dating back in the late 90's.
Working closer together in many years and sharing the value of work within the respective organizations has created possible discussions for a combined effort that could contribute towards achieving the higher shared organizational goals and objectives.
Over these years, there has been a rich exchange of knowledge and ideas in which BRG has had the opportunity to share from its area of expertise that is in, Community Development Work through;
BRG CF's field engagement in RCF work areas/Crater Mountain Wildlife Management Areas [WMA]
Field/community assessment and Organizational evaluation
Other organizational support
While BRG is working within various circles in PNG and in the Pacific in terms of Community Development work, RCF took on the initiative to build research and teach conservation knowledge through its Conservation Education Program with UoG.
Discussions for the need of a possible joint course offer at UoG started in 2013 and in 2014 BRG course preparation began with close guidance/mentoring by RCF.
In early 2014, RCF through its Conservation Education Program at UoG had its contract renewed for another three years with UoG with much appreciation this time BRG was included as a third party to this contract.
In late second semester of 2015 – BRG was officially welcomed into The School of Humanities and Social Sciences.
In the next two [2] years [2016-2017] BRG will be teaching in the division of Indigenous Environment and Development Studies [IEDS] under School of Humanities & Social Sciences – University of Goroka.
COURSE TEACHING:
A; RCF teaches - Indigenous Knowledge and Environment studies
B; BRG teaches Development [Development Tools – course name]
3: Purpose
To shift and change the DEVELOPMENT mindset/perspective of the present and future elites of Papua New Guinea through learning and teaching in tertiary level of education.
4: Aim
To change and impact young minds in various field of expertise to question, challenge and impact the societal development mindset.
Our interest is to build a strong impact on undergraduate (BA) Education students [Graduating Teachers] with the idea that they will continue to build a much more stronger impact within their field through empowering;
Young minds in schools [Primary/Upper Primary and secondary school students]
Peer teachers within schools
School Board of Management/Parents and communities
Students taking other courses within the school of Humanities are also targeted
5: Challenges
Being new to the University environment is a huge challenge in getting to know the whole university its structures, systems, culture and the protocols
Documentation of BRG field learning's/knowledge into a recognized teachable content within the university standard
BRG content impossible to deliver within the allowed timeframe [7-8 weeks]. We have to stream down for the allowed time
Need additional resources for teaching – increased student registry to IEDS means more work, more resources and more time
Need more staff capacity upgrading to qualify for lecturing/tutoring at the unversity level
6: Achievements
With RCF's guidance/assistance BRG successfully
i) Developed course content,
ii) Delivered the course,
iii) Conduct students assessments as per the university requirements
iv) First course teaching, eight [8] students successfully completed the course Development Tools
v) Final year [2015] students taking up Industrial Training with BRG and RCF
vi) Increased students registry to BRG/RCF course for 2016
Given the extensive knowledge in research and teaching Development Tools, Indigenous Environment and Development studies [IEDS] has invited BRG to sign a direct contract in 2017 a joint offer with the Planning & Development Studies.
Other divisions within The School of Humanities & Social Sciences [Melanesian Studies] has shown keen interest in similar arrangements.
Want to support BRG's work to challenge and critique the model of development in PNG through learning and teaching? Donate to BRG's Sharing the Future Project now".