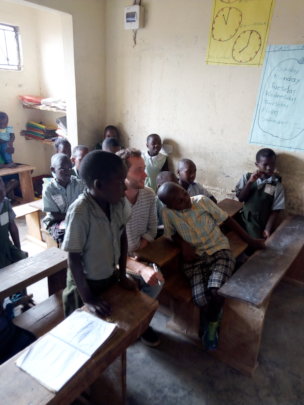 Dear Friends, 14-11-18
Thank you for your continued support to GLS, GLV and GLH. God has given us another chance to share about the school progress. We have made some progress on our current building project of Classroom Block and farm house-Praise the Lord! The Global Giving evaluator's visit was a welcome one. It was great learning from them as they learn from us. I attach their observation report below:
GLS Teaching continue to Improve with students doing more of personal reading, group discussion .We do hope that this exercise will produce a good feedback for our primary seven children who are currently preparing for their final examination due next month.
The Science Teacher consultant left us after doing a good Job to our children. We wish him the best.
Prayer Request
1-Regular funder to come on board. We are praying for $1,150 monthly for 5 years to be able to maintain the support we are giving. Any contact to friends outside there will be appreciated.
2-GLS Classroom block to be well finished and School text books
3-Classroom chairs, Tables needed.
4-Our faithful supporters with a good missionary heart –The Lord may bless them heaps and heaps.
5-Our final school term goes well.
Note from the In-the-Field Traveller
Visiting GLH was a pleasure! They were great hosts, they gave a great tour of their classrooms and other projects and made me feel welcome from the start. They seemed very interested the whole time and the entire organisation was very easy to get along with. James, keep up the good work! I am looking forward to seeing more posts on Facebook and Twitter, and seeing how you can use the local community to fundraise.
Recommendation for how to better use GlobalGiving
James and his team should all familiarise themselves more with GlobalGiving systems. For example, keeping their superstar status should be easy with the webinar's and learning cycles that we ran through. Keep trying to run through these as a team. Try and do networking mapping with the whole organisation and board. Fundraising is a team effort!
Feedback on your programs
When creating new projects on GlobalGiving, use specific examples and stories of the students. Remember to create a specific call to action from the person reading and use the 5 building blocks for writing a compelling story.
Quote from the In-the-Field Traveller
James and his team are a passionate group of people. They are truly helping the needs of the community by housing and educating vulnerable young people. GLH goes beyond education by helping those who want to pursue vocational jobs too
Blessings,
James-Project Leader GLH