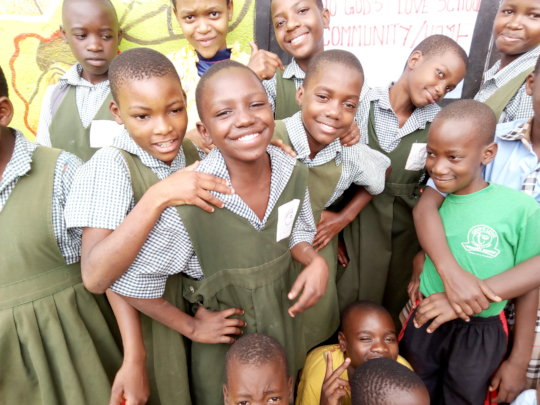 God's Love Home, Kampala 02-02-2020
May I wish you a ''Blessed New Year'' and thankyou for your continued interest, prayer and financial support for GLH. Kevin and Valma Joined me in Uganda to get on with the roof work of the school Block . We have been looking after orphans for 12 years now at considerable cost. Maybe this is a good time to take stock. The bare bones. At present there are 36 children of primary age or less (15 in the orphanage, GLH, and 21 supported with Guardians; this is an interesting model as there is a move away from big orphanages but GLH retains the advantages of both). There are a further 16 supported in Further Education. They have come into our care for a variety of reasons; AIDS orphans, found abandoned by police, referred by Council, etc and one orphaned by Ebola. Over the years some 30 have left our immediate care, many now in employment. One young man got a distinction in Diploma of Law, is qualified to go to the University but lacks fees. GLH still cannot get official funders and just does not have the resources to fund university but this is a very sad case.
GLH shares premises with the Junior Classes of GLS. There is separate accommodation in bunks for boys and girls. Matron looks after them and manages to feed them well on a tight budget. Kwashiakor is no longer an issue and illness much reduced using regularly inspected mosquito nets. Matron is a key member of the team but is wondering how much longer she can continue looking after the children as she is not well and not getting younger. You may remember one of the children was injured in a traffic accident; she is still affected with recurring headaches. There should be official funds available to support orphans etc but we have been unable to access them. Uganda, sadly, scored badly on an international corruption scale, an issue that affects so many aspects.
GLS. The top 4 Classes are on the lower campus in the new building. The aim of GLS is twofold; to provide a good Christ centered education and, from the fees from surplus places, generate funds for GLH. We had our first class that sat the Government P7 leaving exams and all achieved a grade 1 or 2. This is a superb achievement. However it is a poor neighbourhood and " you cannot expect dry cows to give good milk" so fees are too low to cover costs. They need to develop a model where the fees are high for those who can afford (but grants and bursaries are available for the genuinely unable). The school needs to be self funding or a sponsor found; GLS cannot continue to be a drain on the organisation . There are unfilled spaces . GLH has pupils in the younger classes and the older ones but there are several years with no GLH in them
GLS2. The very success of the P7 leaving class has caused a problem. There were 4 from GLH and this year there will be a further 5 that could go to secondary school. To fund them the budget would need to be doubled. So for the first two years of secondary we have set up a small unit, partly self taught, to teach the 8 basic subjects for O level. We obtained syllabii and schemes of work from a nearby secondary school.
GLV . Girls at 13 are too young to be independent so GLH has started a small unit for ex GLH pupils teaching elementary sewing and hairdressing. Our students take the exams of a local technical college (getting grade B). There are 6 in year 2 and 1 in year 1. Their teacher lives with them and supervises them. Other. There are a further 3 in Secondary and Vocational School 2
Any questions or queries .. please ask. The headline is really the same as prevous years. Despite continuing problems GLH has housed, fed, loved and educated over 50 children. Thank you for your support; financial and in prayer. To God be the glory
James mukiibi
0788963985 james.mukiibi@yahoo.com