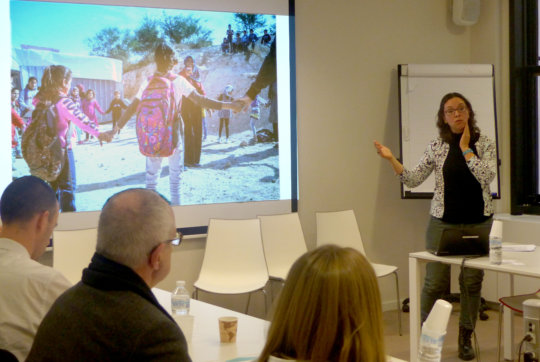 Dear ally,
In the past few months, Senior Attorney Suhad Bishara, the director of Adalah's Land and Planning Rights Unit, gave presentations before international actors to raise awareness of the legal and human rights consequences of the impending demolition of Umm al-Hiran. Around 700 Arab Bedouin citizens of Israel will be evicted, according to the state's plan, in order to establish a new Jewish town to be called "Hiran", over the ruins of their homes.
These discussions were fruitful and important: they enhanced European officials' understanding of the realities on the ground in the Naqab (Negev), and highlighted the urgent need to protect the rights of the Bedouin citizens of Israel living in Umm al-Hiran.
In late January 2017, Adalah joined partner organizations CIDSE, an international alliance of Catholic development agencies, and the Jerusalem Legal Aid Center (JLAC), for an awareness-raising visit and seminar in Brussels for European Union (EU) and EU member state officials about forced displacement and to mark the publication of the report 'No Place Like Home,' to which Adalah had contributed.
Attorney Bishara spoke about a new governmental plan, "Prawer II", which outlines a framework to expedite procedures to demolish unrecognized Naqab Bedouin villages like Umm al-Hiran. Its previous incarnation, Prawer I, was frozen in December 2013 following extensive international pressure and local opposition. Read our paper about the new plan.
The two-day visit and seminar was accompanied by a photo exhibition with images of Umm al-Hiran provided by Adalah, which included haunting scenes from the night before an expected demolition in November 2016, which was successfully prevented due in large part to community and media mobilization. See the photos here.
In March 2017, Adalah coordinated and participated in a briefing for foreign diplomats in Israel, hosted by the Embassy of Switzerland and in partnership with the Negev Coexistence Forum, on the land and housing rights concerns of Palestinian citizens of Israel.
Attorney Bishara provided an overview of the land and planning laws in Israel, and particularly focused on new legal developments in the Naqab following the Israeli Supreme Court's rulings in 2015 and 2016 to allow the demolition of Umm Al-Hiran.
Attorney Bishara emphasized that Umm al-Hiran was one of 36 unrecognized villages that would be dispossessed by the state, with 70,000 to 80,000 Bedouin residents threatened to be forcibly displaced into segregated and concentrated townships, in clear violation of their rights.
"Israel uses the law to wage a war by different means against its Palestinian citizens," explained Attorney Bishara. "It is our responsibility to challenge the discriminatory laws and policies that apply differently to Arab and Jewish citizens of the state – including in Umm al-Hiran."
These awareness-raising activities are made possible by your support. Help us to continue spreading the word to diplomats, journalists, and others to #Save_UmAlHiran!