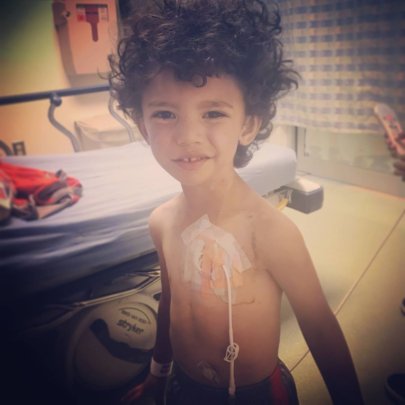 Hello Jovial Friends,
As you may recall, over the last few years we have highlighted the story of one of our first garden hosts Mandy and her son Dakari who suffers with several digestive disabilities. This week, I had the privilege to work with Mandy on creating a free food pantry at our new office. A play on the little free libraries, this food pantry encourages folks to leave what they can and take what they need. As Mandy painted the pantry in the most beautiful and inviting colors, she opened up to me about some of the progress with her son.
Dakari has had an IV line into his stomach since birth that provided the nutrition to off set his whole food diet. This has been a constant source of stress for the family as any small infection in the IV could cause serious complications for Dakari, including death. Yet, surgery after sugery, over these last 4 years Dakari has proven to be a resilient, happy, and amazing fighter. Finally, last month, Childrens Hopital decided to remove the IV. Imagine, at four years old, for the first time being able to play in water and dance in the rain!
We could not be more overjoyed for Dakari and his epic summer of Elitches' Water Park and running in the sprinklers with his brothers for the first time! I asked Mandy if she felt being a part of Jovial Concepts and hosting a Jovial Garden at her house has had any impact on her experience and her sons health. As your donations have directly helped shaped this story as well as Mandy's ability to provide fresh whole foods to her sons from her backyard, I requested she put her answer in writing so that I could share with you.
From Mandy-
"Being a part of Jovial Concepts these past 4 seasons has been a wonderful resource for sustainability and teaching my children how to grow their own food. My boys have loved working with volunteers and helping out when they are gardening in our yard. In the past three years our family has experienced a huge financial loss with the birth of our third son who has severe and multiple special needs. During the summer months it's been amazing to use food from the garden to supplement his special diet and provide him with nutritious fruits and veggies. My son is now 3 1/2 years old and he is doing better than we ever expected and thriving off of whole foods and some supplemental tube feeding. He is now growing without the tube and he is about to start preschool, he is the happiest most joyful child I have ever known. I owe a lot of his, and our family's progress, to friends and community and especially the generosity of Jovial Concepts and it's amazing volunteers. Words cannot express how much I appreciate Jovial and their program"
Thank you so much for your ongoing support and donaions. It is your generosity that gives us the ability to change lives one vegitable at a time. This summer we are in need of more volunteers and are seeking funds to grow into 3 more neighborhoods in the spring. Our gardens have aready produced just under 1,000lbs of produce this year and, like Dakari, are loving those afternoon rain showers!
Join us, every Sunday from 9am-1pm
We meet at the new space
"The Co-op at 1st"
5045 W 1st Ave
Happy Harvesting from the Jovial Crew!