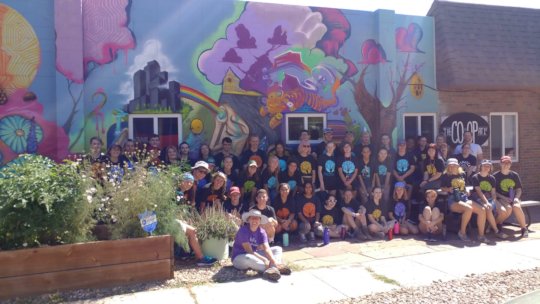 This has been a fantastic year at Jovial. The rainy weather has given us beautiful high yields of produce and we couldnt have harvested it all with out the numerous volunteer groups that have come out each week. We have been donating an average of 250 pounds each weekend to local food banks and Elementary Schools and hosting about 80 volunteers each month.
Several months ago when I brought our weekly produce to the Denver Indian Center (a food bank and community resource center for Native Americans and the Alaska Native Community) I met a fantastic woman in her late 60s. We chatted a bit about soil ammendments and found out that Jovial Concepts uses severeal Native Americal gardening techniques.
The following week I received a call from a group of nutritionists. They said i spoke to their mother at the Denver Indian Center and that they wanted to use our commercial kitchen to do cooking classes with Native American recipes for their community at The Co-op at 1st.
We are so excited to house these beautiful connections and collaborations in our community. Jovial Concepts has offered to donate the produce for their cooking classes and we hope to see these wonderful chefs in our gardens soon!
Our Grand Opening for The Co-op is scheduled for Oct 20th and we hope to see you there from 2-6pm. Yard games, live music, and demonstrations from our vendors and tenants. At 6pm in collaboration with UpRoot Colorado and Plant the Seed Project we will host a gleaned (rescued produce that would otherwise go in landfills) meal for 100 people.
If you are interested in gleaning produce, growing produce, or supporting cooking classes for families in need please email kristina@jovialconcepts.org.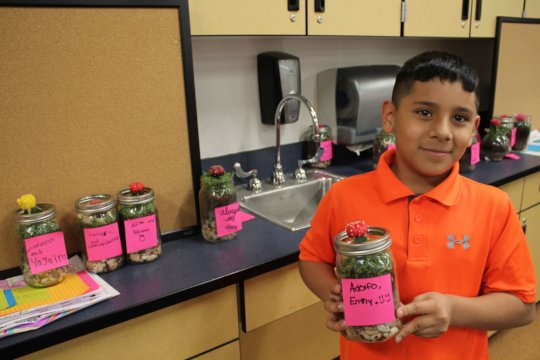 Last year was our first offering our Plant The Seed Project programming. When we finished the school year, we realized there was an opportunity to create a year round gardening program with the addition of a summer camp. We tried to raise funds to offer a Plant The Seed Project Summer Camp via Kickstarter but were unsucessful in our campaign. With that in mind, we went into 2018 looking to secure funds to do what we couldn't previously. The Wolcott Family Foundation supported our vision with grant funding and we were able to offer a 6-week camp for 40 students at no cost this past summer.
During that time, our youth from a variety of local schools participated in the City of Denver's Youth One Book One Denver program and read the novel "Insignificant Events in the Life of a Cactus". This narrative about a young girl living with limb disorder provided a sturdy backbone for us, as it introduces several new characters, environments and situations as material for programming. For example, on day one each student made terrariums complete with cacti which they were able to nurture and take home on the last day of camp, inspired of course by the book's name. To gain a deeper understanding of our main character Aven's lifestyle, we had a visit from the City of Denver Office of Adaptive Recreation and participated in an obstacle course where each station replicated a different impairment or disability.
We didn't stop there. Our characters played the ukele, so we had Swallow Hill come and teach us a few songs. The folks from the Butterfly Pavilion came and let us play with tarantulas, cockroaches, and other animals we might see in the desert setting of our book. All while teaching us about the adaptations needed to survive in that rugged climate.
Last but certainly not least, we loaded up the school bus and trekked down to the Civic Center to meet the author Dusti Bowling in person. There she explained how losing a close relative who had a limb disorder and having a husband and children with tic disorders led her to write a book about characters that reflected their realities. After signing our books, and letting us take some time to ask questions, we headed back home. Hopefully with new perspectives on people, plants and animals alike. With your help, we can do it again.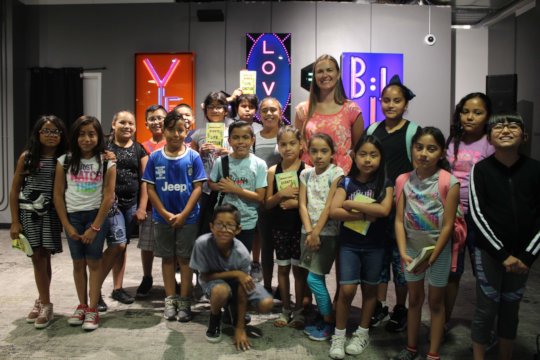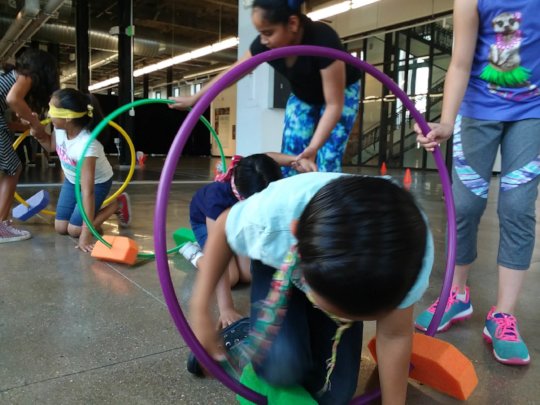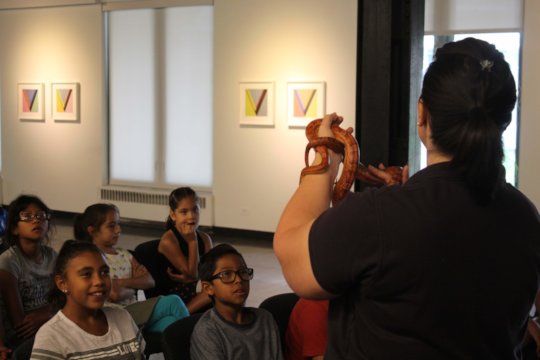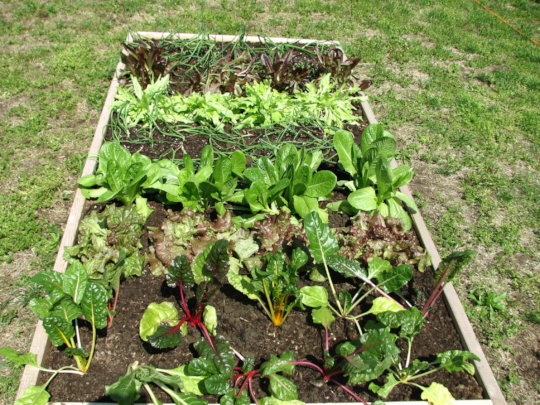 Hello Jovial Friends,
Jovial Concepts took huge steps to plan ahead and plan early this year and it really paid off. We revamped our best practices and started 45 days earlier than last year, which meant we beat the heat and had everything planted by early June.
It is wonderful to see our gardens flourishing and to have already donated 21lbs of fresh food!
We owe much of our success to our growing partnership with the City of Lakewood, who has been doing 1st Thursday Plaza events with us at the Cultural Center. This has been a great avenue to recruit new volunteers and let our board have a lot of fun together. Feel free to join us July 5th at the Lakewood Cultural center.
We also owe a huge thank you to the many hands of Project Helping and their wonderful partnership. This fantastic volunteer organization sent us several corporate groups and many wonderful volunteers to help get all of our gardens planted! Project Helping organizes volunteer events specifically designed to make an impact — both on you and your community. Through the act of volunteering, participants actively invest in their communities while also reaping the benefits of increased mental wellness. This wonderful group has a strong base in mental health and is even giving us the gift of working with a group of high functioning adults with disabilities.
Our garden leader Liz has always had her heart in families with special needs, she was so excited to hear this group wanted weekly projects and immediately volunteered an extra day each week just to work with them. Their first day the Project Helping leader warned our garden leader Liz that Micha and Zach do not like to go out on group days and they were really suprised that they volunteered as they had never been excited about any of the projects before.
Liz felt very honored that they chose her project and was determined to show them a good time. At first, Micha and Zach kept to themselves away from the group. They wouldnt touch the tools or even put on gloves. Liz had an idea! She approached Micha and Zach with a broad fork and showed them how to use it off to the side by themselves. THEY LOVED IT! Soon they were tilling the garden, laughing, and showing the rest of the group what Liz had taught them. Liz said the day was full of laughter and they even got 2 yards fully tilled and planted. The group learned a lot and all brought home little straberry starts to try at their homes!
We are thrilled to be off to such a great start and look forward to our Saturday Garden days. Every Saturday we meet at 5045 W 1st ave (The Co-op at 1st) and split up to tend dozens of gardens. We garden from 10-2 and hope to see you soon!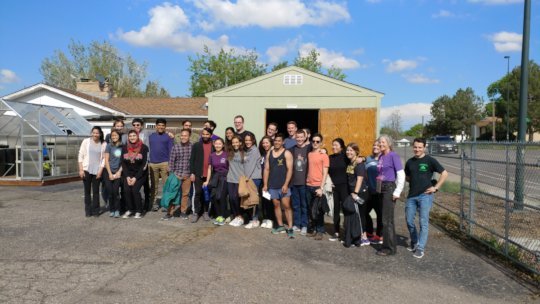 Links:
WARNING: Javascript is currently disabled or is not available in your browser. GlobalGiving makes extensive use of Javascript and will not function properly with Javascript disabled.
Please enable Javascript
and refresh this page.