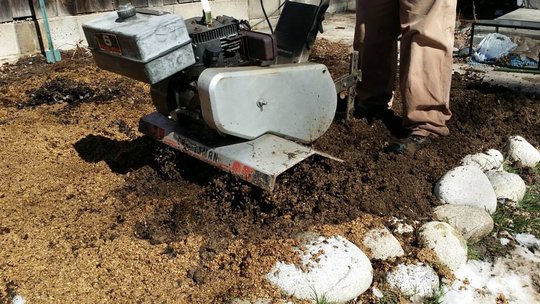 People wait all year for the 4th of July. The fireworks exploding in the air, and the grilling food that you can smell from blocks away, combine to create one of the most memorable days of the year. While most of them are unforgettable, this one will always be special. Despite the holiday, the Jovial staff was back in the gardens tending to our plots. It was a Jovial family affair, complete with volunteers, girlfriends, classmates, and even a mom.
While we all can appreciate a good-time, there is no time to slack off in the midst of such an important growing season. Last year, we were able to produce over 2500 pounds of food with our 5000 square feet of garden space. This year we have doubled the amount of area we are tending to, and hope to be able to triple the amount of production. Ambitious goals, but we believe they are more than reachable. Now in our second season, there is much that we have learned and improved upon. We have already seen some bountiful harvests of lettuce, radishes, bok choy, and snap peas. Even some mustard greens and mountain spinach have been plucked. But we should really start building towards our goals when our harvests of squash, and tomatoes start to come around.
Strategic alliances have helped to truly round out our program. Beneficial relationships with volunteer groups such as Project Helping, and One Brick have allowed us to strengthen our volunteer base. That combined with empowering returning volunteers with leadership roles, allows us to allocate our resources more efficiently and stay on top of the task at hand: managing nearly forty community gardens and distributing the resulting produce to those who need it most.
In the fall, we plan to add some interns from local colleges to bolster our program. This will not only allow us to groom the next generation of innovative, urban farmers, but it also provides us with our own on-campus spokespeople. How awesome is that?
As encouraged as we are by this progress, we know our work is truly never over. There are already gardens waiting to be added to fold for next season, and we will need your help to make sure we can accomodate them
If you are interested in volunteering or getting involved please email info@jovialconcepts.org or call 303-578-2569

Thank you for your support of Jovial Gardens!