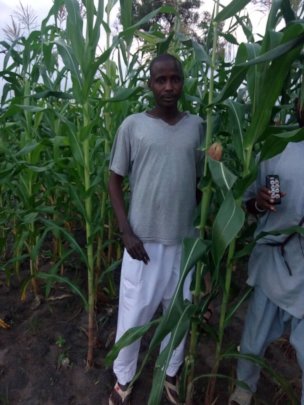 food security and agriculture

Darfur Women Network (DWN) is excited to share with you some information about Darfur and the displaced people, who are survivvors of genocide. Firstly, on bhalf of DWN, let me take this opprotuntiy to tell you how I greatful for your generous donation and endless support.Without your support, we couldn't help some refugees to grow their own food. Now, the people of Darfur believe that the solution for their hunger is agriculture.
The people in Darfur and Chad are excited to secure food for your generous donatiion and for your strong support. Without your support, DWN would not be
able to help the refugees grow their own food.
Moreover, the information about Darfur that I would like to share with you is our Exective Director visited Darfur this year,2018. She experienced the hardship
living there. everything is expensive despite the difficult to earn income. She said that the security is not stable,but it is slowly getting better. The Darfur people hope for stable security. The displaced have suffered for over decade,they realize their only solutions are security and farming. They would love to return to their villages and their lives before the conflict. They always talk about their villages and their hope for better life.
The Executive Director believes that the culture has changed in Darfur.The most of the work to feed, educate, and secure the displaced families relies on women. She talked to them in Darfur. They are hard workers, and do a lot of work to survive. some fifth grade students and elders knock on doors to ask for work.
One morning, fifth grader girls knocked on our door, I opened the door and welcomed them.they asked for work, I asked them, if they go to school, they said yes, and they are doing great at their school. I asked them, " what type of work can you do,? One of them siad, she can clean dishes and sweep the sand, and wash cothes as well as go shopping." I asked, what they need money for, they said they help their families, purchase clothes and shoes, and school supplies.

Another time, I talked to meddle school student, she told me that she did great at her exam to high school. I asked her to share with me her result when it comes out. she promised, she scored 220 out of 270, however , she has to work harder to secure more money for her education,she said"
They are smart, but there are so much destruction and truama. Becasue the great needs in our Exective Director home region, she tried to registerd DWN in Sudan to help these grils to have bright future,but it is not easy. She is still working on registering a branch there.
The survivors of Darfur genocide in Darfur and in Chad are enthuiastic to farm to secure food for their families. They work hard to earn very little to secure less than one meal.Those who are in Darfur, who have inputs and able to rent a land they hoped for security to harvest their Crops.
However, those are in Chad, have little secuity issues. The only concern is inputs, seeds, tools, and money to rent land as well as climate change. This year the refugees hoped to have their situation changed, either resettled in another country or return to their country.
Regarding our help, we focus on the elderly, widows, orphans, and disable persons.
We hope to have support to enable us to visit the camps and discuss the best way to help those survivors and to determine the social impact on them.

Thank you