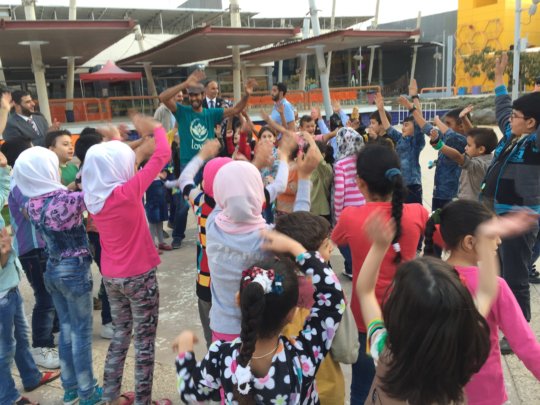 We are excited that the 5000 teddy bears have arrived in Jordan. Plans are underway to distribute the bears to refugee children in different areas of Jordan including Amman, Irbid, Mafrac City, and the camps. We are collaborating with several NGO's in the region to aid in their distribution. The teddy bear project will be:
a. Offering training to parents in trauma and how it effects children. The training will specifically teach how the teddy bears can be used by the children for self soothing, bonding, and security. These trainings will be held to include staff, students, and volunteers in the use of the bears.
b. Research will be done by SHC staff and faculty from Yarmouk University, Irbid,Jordan in the usefulness of the bears as a therapeutic tool in allaying the effects of childhood trauma.
c. Along with the annual training conference in transgenerational trauma and its healing held in October, SHC will be doing outreach to the Syrian refugee community in Jordan through public education and community entertainment events in Amman, Irbid, and Mafrac City where most of the refugees now reside. SHC will be assisted in these events by Empty Hands Music and Gesundheit Institute.
The first group of paraprofessional diploma students (SHC/CBI and Yarmouk University) has completed their training. The next group will begin in early September. This diploma program has allowed us to train more and more parties in trauma informed care and its treatment as we ongoingly work to build capacity in the region in addressing the service needs of the refugee population. Efforts are underway to build graduate level programs in psychology and social work as well as continuing to build field sites for the students to gain the hands on experience needed for licensure.
We are building an increased number of on the ground training events in October. A report on the extent and scope of these trainings will be in our next report as the final details are not available quite yet.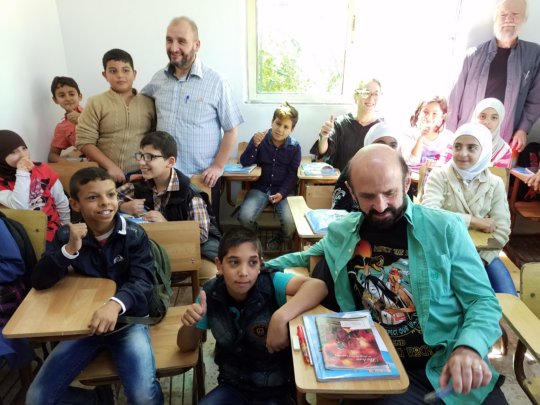 The Social Health Care Program continues to provide training in trauma informed treatment to a growing number of students, volunteers, and collaborative partners in Jordan. When we first started five years ago, there was a dearth of services available to address the psychosocial needs of a highly traumatized Syrian refugee population. Much of what was being provided were psychosocial reports done by persons who had no formal clinical psychology or social work training. Those people who were receiving academic training in Jordan would leave the country to get formal internships required for licensure and not return. Thus creating a brain drain and few skilled clinicians in Jordan and the region as a whole.
Aside from the ongoing training we offer in trauma informed care, both on the ground and virtually, we have worked alongside with our partners in the region to help build capacity of services to meet the needs of Syrian refugee families. Currently, we are working with a small Jordanian consortium of social work to help establish that field in Jordan and working with Yarmouk University and the Queen Rania Center to create the curriculum and programming and funding to expand the number of graduate level students in the region. We have a couple of field placements now established for interns to get hands on experience providing psychosocial treatment to refugee families with professional supervision. Additionally, we have a German graduate level psychology intern on the ground providing group support and training through SHC (and soon a graduate student from the U.S.) The long term goal remains to train and develop capacity within the host society and refugee population to provide the needed services and prevent festering unhealed trauma from being past down through future generations.
Additionally, we have extended our services to schools where refugee children attend. In the beginning the migration, large numbers of the children were not attending school for a variety of reasons. In our clinics, many of the children complained of being bullied and treated badly by other children because they were Syrian. The schools were finding many of the children exhibiting symptoms of trauma they were not equipped to handle and we are in early stages of expanding our offerings to teachers working with these children.
May is shaping up to be a very full month for SHC. We have trainers coming to Amman and Irbid to provide classes in a variety of topics including family therapy, professional burn out prevention, and internal work with trauma. The therapeutic bears will be arriving late May and will launch a number of events in Amman, Irbid, and Mafrac City where the largest number of refugees reside. Parents and agencies serving the refugee population will receive training in how the bears can be used to help children self sooth, work through emotions, and bond. SHC is launching a research project on the use of therapeutic bears and their efficacy in address certain symptoms of trauma seen amongst the children.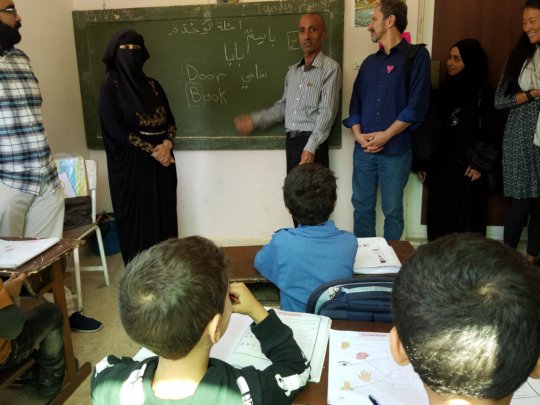 The next six months will be full with growth and activity for SHC staff and students. We will soon have our first graduate student interns in Jordan (students from Germany and the U.S.). The interns are highly experienced and will be involved in research, professional training of SHC students and volunteers in Jordan, aiding in the distribution of the 5,000 therapeutic bears that have been donated to SHC for Syrian refugee children, and providing counseling/support services to the refugee community. Our pilot clinic and other support programs continue to grow.
The bears will be shipped to Aqaba in early May. SHC will then ship them to Amman and Irbid for storage and distribution to refugee children. The teddy bears have been shown to be an effective tool in self soothing, stress management, and trauma treatment of children in other war torn areas of the world. SHC will be distributing the bears through our many NGO partners and SHC sites to the children and design research in the helpfulness of the bears as a tool in working with traumatized children.
In April, SHC staff from Lebanon and Jordan will be coming to the U.S., sponsored by Michigan State University, to present on refugee mental health at the annual Islamic Mental Health and Psychotherapy conference. They have been invited to present on the refugee situation and share some of the creative programs they are doing. We are hoping to do one or two public events while they are here for the general public to learn about the realities of the mass displacement and what is needed.
Ongoing training , both virtually and on the ground, continues for our students and volunteers working with the refugee community in Jordan. We recently completed our second training manual that will be translated into Arabic. The first was in crisis intervention training. The new manual is in group facilitation of support groups, conflict resolution, and psychological first aid groups. In May two adjunct training staff will be in Jordan for two weeks of training for students, volunteers, medical students, and our NGO partners. The trainings will be in Internal Family Systems work, Family Therapy, and Burn out Prevention.
WARNING: Javascript is currently disabled or is not available in your browser. GlobalGiving makes extensive use of Javascript and will not function properly with Javascript disabled.
Please enable Javascript
and refresh this page.