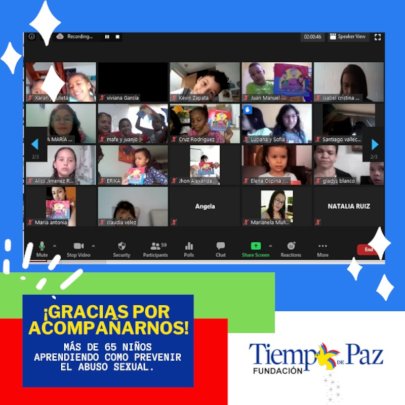 In 2019, more than 22.000 minors suffered sexual abuse in our country. These number are in the rise due to this mandatory quarantine applicable in our country at this present moment.
As with any organization, we had our plan stretched out and ready to execute this year in this area, but the pandemic changed all that. This has led us to reinvent ourselves, so now, our workshops for children from ages 5 through 12 go virtual, with parent participation
We made videos and recreational activities, and in that, we have seen how our virtuals arms have helped protect and make aware more people than we would have ever imagined.
Up until the month of July, we have delivered 1381 kits to 1381 children in the city of Medellin. This number of children is composed, on the one hand, by the participation of 2 educational institutions, and on the other, by 2 workshops, open and free to all public, in which over 100 children and their parents took part. These workshops have limitted capability, since to each child who subscribes, we deliver a kit containing the story "Cuentos que no son cuentos", material we go through in the workshop, color pencils, information about the foundation and a booklet with insights of hope. The delivery abides by all biosecurity protocols, as determined by the National Government of Colombia. " more workshops open to public are already scheduled, and we hope to have 3 more.
We also began having workshops for parents, where we touch on topics such as prevention, ways to heal wounds, we share prevention tools, and the necessary activation routs in case of a situation of sexual abuse. We had 1 workshop so far, and 27 parents attended.
Our longing is to reach and train 4000 children against child sexual abuse, and over 5000 parents, to put a halt to this situation that so impoverishes our nation. We move on firmly committed to teach and protect our children. We know it is no easy task, but our children, the future of our country, need it with immediacy.