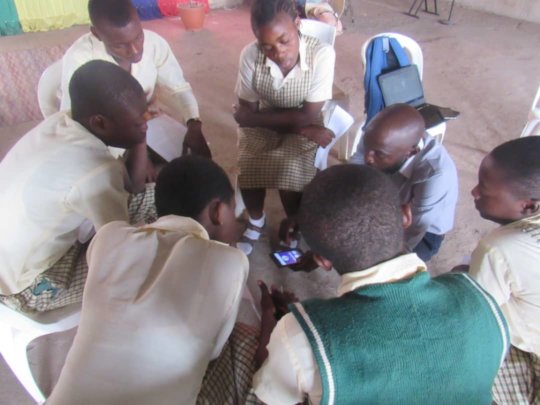 The My Question and Answer Service has continued to provide sexual and reproductive health information and referral services to adolescents and young people in Nigeria. The service covers issues on sexual abuse, sexuality and sexual orientation, family planning and contraceptives, puberty and body changes, HIV and AIDS among others. However, there are certain issues and harmful traditional practices that affects adolescents sexual and reproductive health. These issues include School Related Gender-Based Violence, Female Genital Mutilation, and Child Marriage. According to the UN, Nigeria is the 11th highest nation in the world for number of child marriages. Nigeria also has the third highest absolute number of child brides in the world of about 3,538,000 (UNICEF). Findings from the Nigeria Demographic Health Survey shows that 44% of girls in Nigeria are married before their 18th birthday and 18% are married before the age of 15. Nigeria also has the highest absolute numbers of Female Genital Mutilation worldwide accounting for one-quarter of the estimated 130 million survivors of FGM in the world (UNFPA 2015). All of these issues are reinforced by sociocultural and religious beliefs, gender norms and stereotypes. reinforce.
With the aim of addressing the challenges that adolescents and young people face with regards to SRH and gender-based violence, the My Question team carried out focused group discussions with 60 in-school and out-school adolescents and young people (AYPs) in FCT, Benue, Cross River, and Kaduna States. The aim of the focused group discussions was to get the views of the AYPs on the challenges they face around these issues, seek for more ways by which they can be reached with information especially on school related gender-based violence, female genital Mutilation, and child marriage. During the meeting, young people shared their concerns particularly on the different forms of violence AYPs experienced in and around school affects them. They also mentioned the forms of violence perpetrated by teachers and their fellow students and places where these acts take place in and around the school environment.
Example of the school related violence the young people mentioned were
"Domestic labour where students are asked to weed the farms of teachers."
"Senior students bully junior students by taking their food and pocket money or stipends".
They mentioned other places when school related gender-based violence can be perpetrated as
"Summer classes and home lessons".
"Religious places".
"Staff rooms".
Just to mention a few.
Also, from the discussions we learnt that young people do not see FGM as a harmful practice but rather as a normal cultural practice which they referred to as female circumcision.
With the information we got, we are updating our Frequently Asked Question for the My Question service platform to ensure AYPs are provided with accurate information. Also, during the period under review, in a bid to expand young people's access to SRH information, we made several posts on SRH/HIV and SGBV issues where an average of 360 young people is reached weekly. We also sent out 10,000 bulk SMS messages with educative information on these issues and featured in radio programmes to create awareness on FGM and School Related Gender-Based Violence. In this quarter, we answered over 5,800 questions from young people. Also in this quarter, we hosted the MyAnswer quiz competition on FGM and 24 adolescents and young persons won the prize.
The MyQuestion team will continue to use its technological platforms to debunk myths, break the silence around sexual violence, provide correct and useful information to adolescents and young people in Nigeria to make informed decisions, protect themselves from harmful traditional practices and leave healthy and improved lives.
Happy New Year to you all... I appreciate you all for always being available for us. Female 22 Uyo.
We are also sending this appreciation to our donors for their good work and support for the MyQ service.