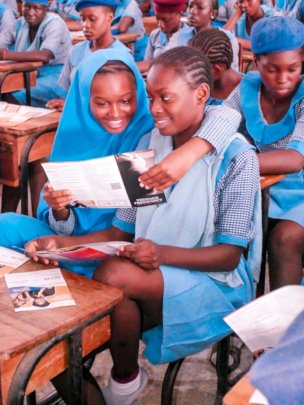 In this quarter, we carried out a lot of outreaches for in-school and out-of-school adolescents through school and community visits and through bulk SMS messages that provided information on sexual and reproductive health and a tech way to access sexual and reproductive health information. More interestingly this quarter we reached out to school girls on the menstrual hygiene day. The theme for this year is "It's Time for Action", and we utilized the objective of this year's theme to empower adolescent girls using education and information. The event was engaging and interactive. Our objective was to educate the girls about menstruation and menstrual hygiene, to provide them with tips for maintaining good menstrual health and hygiene, and to teach them how to calculate their menstrual cycle. We engaged the girls by teaching how to make Cycle Beads in the form of a wrist beads that they could use to count their period. The event allowed the girls to asked questions about menstruation and other sexual and reproductive health information that they had, and we provided responses to all their questions.
Some of their questions included
"Please my friend is not upto 14 years but she has not started her menstruation is it good?"
"Is it true you must have sex with a guy before you stop having cramps?"
"What if you cannot afford pad and you always use cloth for menstruation and you wash it very well, is it hygienic?"
It was an expository session as the girls shared myths about menstruation they had heard and our team did not hesitate to provide factual information. We used this medium to debunk myths and misconceptions on menstruation and menstrual health.
As a norm we introduced the girls to the mobile question and answer service so that they could reach out to a counselor after the menstrual hygiene day for other concerns or questions they may have.
We recorded a 17% increase in the number of girls aged 10 - 24 that used the Mobile Question and Answer Service to seek for information on their sexual and reproductive health.
"Oh thank you so much, may God reward u for the humanitarian work you guys are doing" Female Benue 24".
"I am glad I found this page" Jerry (Not Original Name )
"Your Contributions are always good for us" Favour (Not Orginal Name)
We got many thank yous' from our users and we are also sending them to our partners
We never stop providing adolescents and young people with sexual and reproductive health information and service because you and other partners never stop donating. Thank you so much.