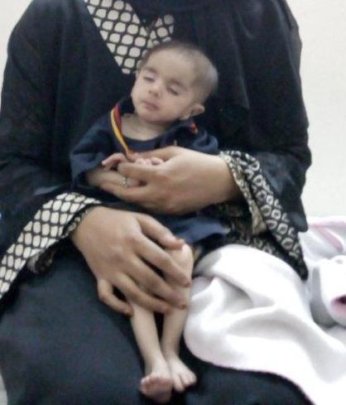 In order to prevent Blindness a continuum of eye care for children that can include both vision screening and comprehensive eye exams are recommended. All children, even those with no signs of trouble, should have their eyes checked at regular intervals. Any child who experiences vision problems or shows symptoms of eye trouble should receive a comprehensive eye exam.There are different treatments to correct a child's eye problems. These treatments may be used alone or in combination. Glasses compensate for refractive error, eye drops or ointments are used to treat infections, Patching one eye is common in treating amblyopia, and surgery may be needed to remove the lens if the child has a cataract. Eye exercises (orthoptics) can improve focusing and help the eyes move better and work together.
PENETRATING KERATOPLASTY
A 16 year old boy was reviewed by us in the month of March 2019. The boy was treated with penetrating keratoplasty for Keratoconus grade 4 in left eye in 2016, when he was reviewed in March 2019 graft scarring was noticed, his visual acuity dropped to counting fingers at 1 mtr distance. The child was suggested to undergo LEFT EYE PENETRATING KERATOPLASTY (re-graft) UNDER GENERAL ANAESTHESIA. The child underwent the suggested surgery on 28.03.2019.
(A cornea transplant (keratoplasty) is a surgical procedure to replace part of the cornea with corneal tissue from a donor. Cornea is the transparent, dome-shaped surface of the eye that accounts for a large part of eye's focusing power. A cornea transplant can restore vision, reduce pain and improve the appearance of a damaged or diseased cornea.)
LAMELLAR CATARACT
A 7 months old male baby was seen at our hospital in the month of March 2019 by our Paediatric Ophthalmologist. The baby is under treatment for gross developmental delays and milestones. (Gross developmental delay is an umbrella term used when children are significantly delayed in their cognitive and physical development. It can be diagnosed when a child is delayed in one or more milestones, categorized into motor skills, speech, cognitive skills, and social and emotional development).
The baby was diagnosed to have both eyes lamellar cataract. (This type of cataract is bilateral. It can be congenital or it can be acquired. The cataract is always large enough to occlude the pupil. Its effect on vision depends primarily on the density of its components - especially the nucleus). The baby was advised to undergo BOTH EYES CATARACT EXTRACTION + ANTERIOR VITRECTOMY + PARSPLANA CAPSULOTOMY UNDER GENERAL ANAESTHESIA. The baby underwent the suggested surgery on 28.04.2019.
ZONULAR CATARACT
A 5 year old child was seen by us in the month of Feb 2019. The child's visual acuity was 6/60 in both eyes. He was diagnosed to have zonular cataract in both eyes. (Zonular Cataract is a rare inherited disorder, and is characterized by zonal opacification of lenses, the disease is progressive. It may result in vision impairment if left untreated). The child was advised to undergo BOTH EYES PHACOEMULSIFICATION + FOLDABLE HYDROPHOBIC IOL IMPLANTATION UNDER GENERAL ANAESTHESIA. The child underwent the suggested surgery for left eye on 07.03.2019.
COLOBOMA CORRECTION
A 4 yrs old male child who was operated for a rare eye condition with diagnosis of Midline facial dysmorphism with upper lid coloboma + medial canthal dystopia (Eyelid Coloboma is an uncommon, unilateral or bilateral, partial or full-thickness eyelid defect. It is caused by failure of fusion of the mesodermal lid folds. It may be isolated or associated with other ocular or systemic anomalies. Immediate attention at an early age through corneal protection, surgical repair of the eyelid defect, and monitoring of the visual development are essential to prevent complications: corneal leukoma, symblepharon, and amblyopia). The child was suggested to undergo surgical management in 2 stages.
Stage – 1 - Coloboma correction
Stage - 2 - Debulking, medial canthal reconstruction with transnasal wiring.
The child underwent 1st stage of correction on 27.06.2018.
2nd stage correction was done on 30.04.2019