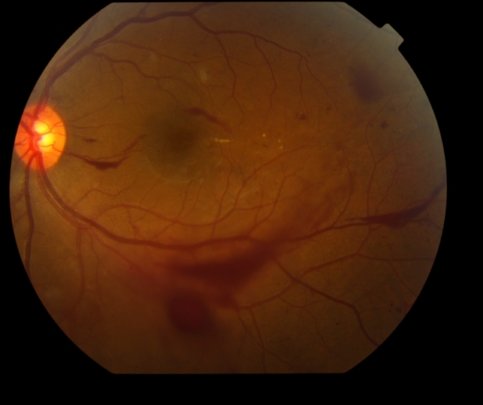 Background:
A 42 yr old gentleman was first seen at our hospital on 30th December 2019 by Dr.Praveen R Murthy, Vitreo-Retinal Surgeon. On examination he complained of diminution of vision in both eyes since 1 month. His visual acuity in both eyes was counting fingers at 2 mtr distance. He is a known diabetic since 4 yrs and hypertensive since 1 yr on treatment. Due to renal problems he is on dialysis 3 days a week. Fundus examination showed proliferative diabetic retinopathy (PDR) with vitreous haemorrhage (VH). He was advised to undergo RIGHT EYE VITRECTOMY + MEMBRANE PEELING + ENDOLASER + FLUID GAS EXCHANGE + ENDOLASER + C3F8 GAS UNDER LOCAL ANAESTHESIA.
Surgical Management:
After undergoing all preliminary investigations (physical fitness & Nephralogist opinion) he was posted for surgery on 28.01.2020 @ 05:00pm (post dialysis day). The operating team consisted of Dr.Krishna R Murthy & Dr.Bhargavi Murali – Operating surgeons, Dr.Snehapriya – Assistant Doctor, Mr.Muthuraj - Surgery Assistant, Dr. Naveen – Anesthetist, and OT Assistants- Mr.Suresh & Mr.Umesh
The surgery lasted for 2 hrs. He was discharged on 29.01.2020 with an advice to follow all medications and to maintain strict prone position for 13-14 hrs a day.
Diabetic retinopathy is a diabetes complication that affects eyes. It's caused by damage to the blood vessels of the light-sensitive tissue at the back of the eye (retina). The condition can develop in anyone who has type 1 or type 2 diabetes. The longer the diabetes and the less controlled blood sugar levels, the more likely to develop this eye complication. Complications can lead to serious vision problems
Over time, too much sugar in your blood can lead to the blockage of the tiny blood vessels that nourish the retina, cutting off its blood supply. As a result, the eye attempts to grow new blood vessels. But these new blood vessels don't develop properly and can leak easily. These new blood vessels have to be treated with laser / antivegf injections. Without any treatment, the bleeding will cause scar tissue that starts to shrink and pull the retina off and the eye becomes blind. If the blood vessels continue to grow despite the above treatments and causing haemorrhages requires surgical interventions.
Careful management of diabetes is the best way to prevent vision loss.
He used to work as projectionist in theatre mall. Due to renal problem he is dependent on dialysis 3 days a week, added to above he started having vision problem, the employer insisted on fitness to continue his work. As a result of which he had to discontinue his work.
Now, post surgery he was able to find another job in the same line and is happy that he can support his family. He has thanked the entire team.