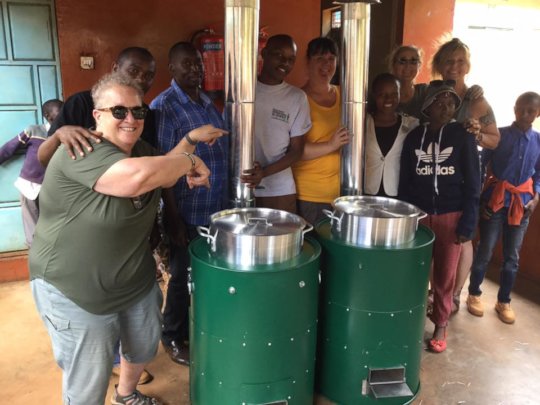 Two new industrial stoves manufactured by InStove.org were successfully installed at the Children's Centre in August. A group of Americans carried the stoves over in their carry-ons and reassembled the stoves on site. The cooks took some time to get used to them, and were skeptical of how little fuel is required. A couple months later though, and the cooks are delighted and convinced that these are the "best stoves ever." Today the Centre is using less than 5 kg of wood a day to feed over 200 children, a huge benefit in this dry semi-arid region where wood is scarce, saving a large sum of money in fuel costs. Needing just 5 kg of wood, our local guardians are able to forage for the wood thereby also contributing to the cost savings. The cooks are able to cook rice in one pot and beans in another for the hundreds of children that come to the centre daily for a hot nutritious meal. Kale, tomatoes and eggplant from our garden help round out the nutrition for the vulnerable hungry children. Thank you easing the cost burden, providing the cooks with new technology, and most of all for helping feed the kids efficiently!
Many of our beneficiaries are happy kids with imaginations who are excited to grow. However, because of the harsh climate of Kenya, they have low energy due to malnourishment. These kids must spend their days looking for food for their families instead of going to school. They go to sleep hungry, and whatever they get, they choose to SHARE. Even though they have many struggles, they are the most kind and giving people. Thanks to the support we have received, we have been able to change so many of these kids lives. Hundreds of kids are now able to focus on their studies instead of wondering if their family is going to go to bed hungry. Please continue to give to the children in our program. They're getting older, and the older they are the more they need to eat.
Asante
Things have been pretty rough in Kenya. Recently heavy rains outside of rain season have fallen and destroyed many houses, along with the quality of life for so many. A household typically consists of one grandparent and many kids that are either siblings, cousins or not related at all. Since food is so scarce in Kenya, people have been focussing on finding food to stay healthy instead of rebuilding their homes. They are also unable to afford to rebuild their homes, because it's either that or eating. We would love to help the multiple families affected by the horrible rains to be able to focus on rebuilding their homes and not searching for meals. With our food baskets the kids will be able to focus on their studies and the grandparents will have an easier time prioritizing rebuilding their homes. Unfortunately this is going to be a rough holiday season for many of the families we support because they haven't been able to rebuild their homes. We hope we can at least provide them with a comforting and long lasting meal.
WARNING: Javascript is currently disabled or is not available in your browser. GlobalGiving makes extensive use of Javascript and will not function properly with Javascript disabled.
Please enable Javascript
and refresh this page.