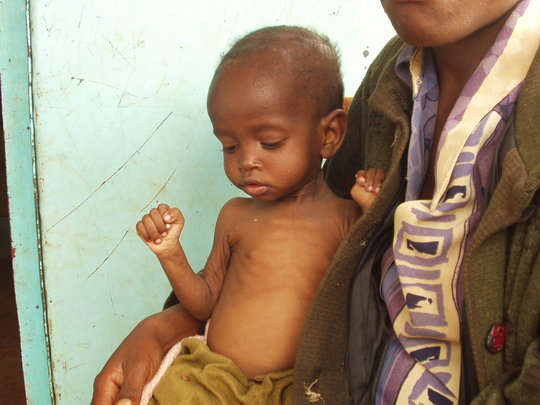 Malnutrition is an inherent problem throughout Kenya, which is further complicated by many political, social and economic factors. Makindu has been a drought-stricken area for the last few years now, with meager rainfall destroying annual hope for reasonable harvests and subsequently the chance to feed families and children.
There are two forms of malnutrition present in Africa. "Marasmus" is secondary to a total depetion of calories and produces the typical skeletal, ghostly bodies seen in refugee camps. "Kwashiorkor" is more frequently seen in Kenya, and is due to a relative lack of protein within the diet. Children with kwashiorkor can initially look deceptively healthy, as they are often swollen with more full features, but are suffering from a profound weakness, lethargy, and often with major body system failure. Kwashiorkor in children presents a servere threat: if they survive at all, they frequently have life-long complications of growth or mental retardation, bony and muscular weakness, and weakened heart and other organs. When malnutrition is severe enough, it causes a weakened immune system. This in turn makes the children much more susceptible, and unfortunately they often die of relatively minor illnesses.
Makindu Children's Program offers a daily nutritious meal to the children. This meal is generally a vitamin and protein rich porridge supplemented by fresh vegetables and beans grown at Makindu Children's Centre. The children also receive at least one glass of milk daily. After as little as four months of daily nutrition, a malnourished child will be transformed into healthy happier child. Jaundiced skin will be replaced with a healthy glow.Vacant eyes will sparkle with joy and hope. Patchy thin and dull hair will grow thick and shine. Weak and plaintive cries are replaced with giggles, squeals and laughter. With a cost of just 50 cents a day to feed a child, we can save him from malnutrition and possible starvation with as little as $60.
Mutenthya came to Makindu malnourished, anemic and listless. Four months later she was transformed into a giggling, bubbly, happy and energetic youngster. Makindu Children's Centre provided Mutenthya - and hundreds of other children like her - with food, love, basic medical care, caring encouragement and advocacy. These are all such simple interventions, and now Mutenthya and the others have a real chance for a future. They have HOPE.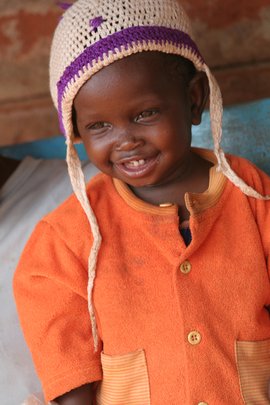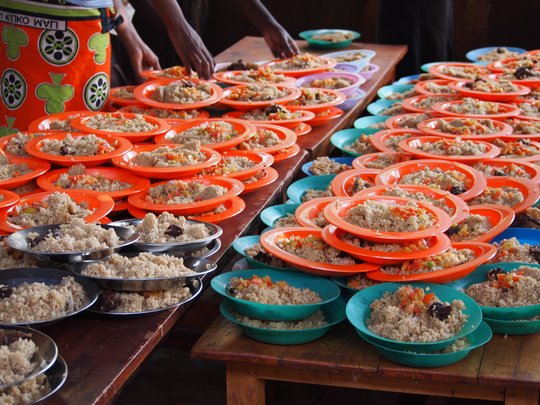 Links: