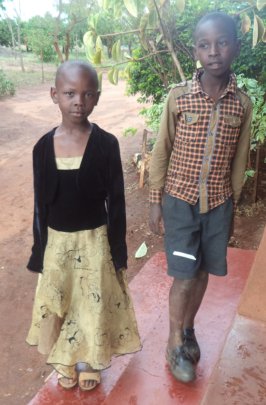 Mutheu and Wambua and their siblings, cousins and grandmother all live in the same hut and receive food from Makindu Children's Program. The kids come to the Centre for daily meals. The grandmother tends her own garden plot on the Centre's grounds. Occasional complimentary food baskets of rice, beans and maize help make meals possible at home.
Daily meals at the Makindu Children's Centre continues to save lives and keep hundreds of kids in school. Those who are in lower primary school take lunch and play around, wash their clothes and go home later in the day. Those in upper primary school take lunch and then go back to school. Hundreds more children come to the centre on Saturdays to eat breakfast and lunch, wash laundry, bathe, play and participate in pyscho-social events. The neediest families, including Mutheu and Wambua's family, receive chickens or goats for rearing either at the Centre's farm or at their own homes.
Mutheu and Wambua's elderly grandmother cares for them and 4 other siblings and cousins, 3 of whom are infected with HIV. Her two children and their spouses all died of AIDS years ago, leaving the well-being and care of the grandchildren in her hands. Her only income comes from selling vegetables and fruits at the local market, which brings in a meager income at best. Makindu allows the grandmother to tend her own garden plot at the Centre, providing the family not only with crucial fresh produce, but also with supplemental income, albeit minimal since she uses most of it feeding her household.
Without the meals and supplemental produce and grain available to them, this impoverished family would fall into malnutrition. The 3 HIV infected children would suffer with poor health, as proper nutrition is so very necessary to keep up the immune system and ward off fatal opportunistic diseases. The other 3 children would also suffer, likely falling behind in or failing to attend school due to hunger.
For these kids, and all the orphaned children we care for, Food First is the mantra to good nutrition and health, leading to better results in school. All it takes is one meal a day to get a child healthy, one meal a day to keep a child healthy. One meal a day for these kids costs a mere 50 cents. Help us feed our 1,800 orphaned children today!