Thank you for continuing to support the children of Makindu. We care for many kids who are HIV+ and we are so grateful to be able to, thanks to you. On top of the high risk of the kids getting COVID-19, they also need optimal nutrition to stay healthy. Currently, the unemployment in Kenya is at 30% due to COVID-19, and on top of that, Kenya has been experiencing another drought which caused many crops to fail miserably. We were able to install a solar powered borehole at the Centre, so luckily some of our crops have succeeded like kale, eggplant and tomatoes. We are so happy about being able to send the HIV+ kids home with some fresh veggies along with their usual health checkup, vitamin supplements and receiving antiretroviral medication. To keep ahead of the drought we want to be able to provide nutrition for those in need. We are also working to get the school equipped with better sanitation standards.The school is lacking in soap, water and sanitizer. We so appreciate you continuing to support the children of Makindu and giving them hope.
Thank you for continuing to support the girls of Makindu. There are currently 292 girls enrolled in available education programs in Makindu. The girls all received the mandatory school uniforms. Without the uniforms, the girls cannot attend school. We were also able to equip girls with sanitary napkins. This is extremely important as it keeps the girls in school. Unfortunately, many girls drop out of school due to the discomfort and embarrassment of menstruation, or the inability to acquire a uniform. Although school was in session for the term between January and March, it was closed down again due to the 3rd wave of COVID-19. School resumed on May 10th and the girls are very happy to be able to see each other again. However, the schools are still unable to enforce important COVID-19 restrictions. They don't have enough resources for important sanitation standards such as: social distancing, water, soap or sanitizer. We would love to be able to help make this happen for the schools so we can ensure the safety of the girls and support them in their future by getting an education. We wouldn't be able to do any of this without you. Thank you for giving hope to the children.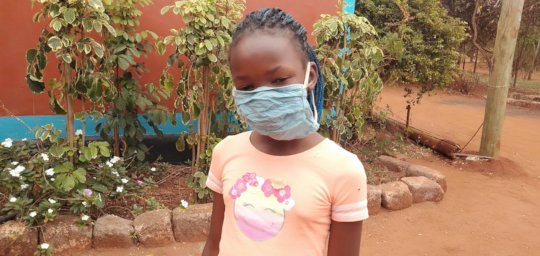 In addition to the regular challenges that the residents of Makindu face, Covid-19 has intensified the struggles in the community, especially with the amount of food available and health safety in schools. Catching Covid-19 would be drastic for those who are HIV+ or have family members who are.
So, on top of the worry of Covid-19 and HIV+ children, right now the residents of Makindu are facing major challenges. The Makindu community has been educated on how to stay safe from Covid-19 and the schools are back open. However, due to the schools needing to take precautions, people unable to work and the community struggling financially, the school was unable to get any funding for soap, water, food or any intervention. While we are trying to get funding for necessities the school needs to be a Covid-safe space, we are also hoping to keep everyone in good shape and well nourished by providing goats to each family. Each family having a goat would prevent them from having to travel and interact with people on a regular basis to seek out milk and other resources goats provide, naturally keeping their chances of contracting the virus even lower. One goat is $65. Providing each family with a goat will guarantee that the residents will be in good health to continue their education and continue going to school and most of all have stronger immune systems to fight against HIV, the virus or any other illnesses they could get. We are so happy and fortunate to have been able to help slow the spread of Covid-19 for this long, we want to do all we can.
Thank you for your ongoing support.
WARNING: Javascript is currently disabled or is not available in your browser. GlobalGiving makes extensive use of Javascript and will not function properly with Javascript disabled.
Please enable Javascript
and refresh this page.