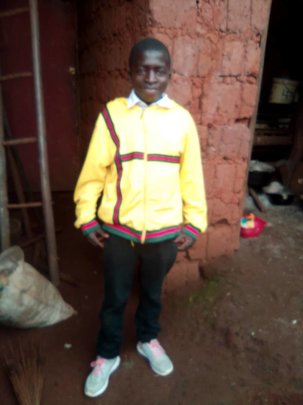 Dear supporters and readers,
Greetings once again. Here comes another short report on this project which you have been supporting or would like to support.
Cameroon as of now has a serious humanitarian crises brought about by the on going war. Fighting and kiling has continued in our region where this project is based especially in Kumbo where we are doing our best to help the orphaned children.
In the past, we have been doing a lot to help the oprhaned and vulnerable children gain vocational education and through your wonderful support these children have been supported. With the war in place we were able to to transfer some of these poor children to regions that are not affected by the war. These were particularly the finaly year class and most of them have recorded brilian General certificate results.
However were were not able to send all of them out because we needed to identify host families with a lot of difficulties. As such, most of them are in various villages but still under our supervision and care. We have to take out our library books for them to be using while some are able to be attending home classs studies depending on the peace and stability in the villages where some of them are found.
The Problem of host families have also been our main difficulties since the war has driven many people from this area to become refrigees in neighboring countries and some have become internally displaced people in other major towns in Cameroon. Search one of them is happy to live with a host familly as you can see in this picture attached.
We are stock and at the moment, we have identified many more orphaned of all ages who have become victimes of the current war. Most men have been killed and women have become widows while some men have become widowers.
This has really increase work on us a humanitarian organization in the aspect of helping the orphaned children gain quality education.
We are now faced with a challenge of admitting more orphaned children than ever before in our school as back to school campaign is gaining grown. This is a loud cry of concern by both national and international bodies for effective schools to resume in September. The government and the separaties are not giving chance for a conducieve study environment because fighting is still going on.
We are really appreciating those who have continued to support us and appeal that this is the time that we we need to step up our endeavours to help more chhildren.
We. pray that God should bless those of you out there who has supported this project and request that you help us and bost it in your face book or carry our some fundraising activities to support this project.
Cameroon and the United nation is calling on humanitarian assistance for the English speaking regions and our need of giving a gift of education is more than giving food and cloths to the victims.
Thank you for yours support. May God bless you.
Links: