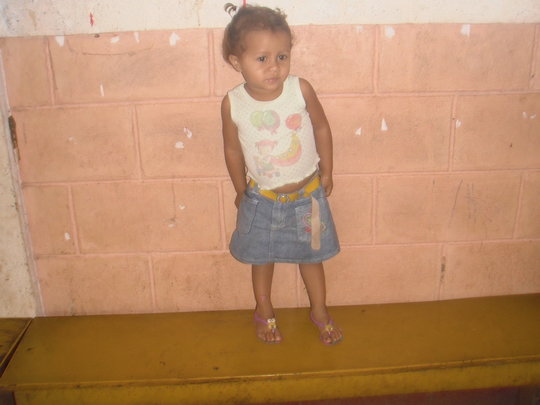 Dina Gómez Gutiérrez Rochely was being treated repeatedly at a Health Center in Cruz Verde, Nicaragua for malnutrition and low hemoglobin test numbers. Even after months of treatment doctors were seeing little progress in Dina's overall health.
Dina began attending CICO, a preschool located in Cruz Verde at 12 months of age. She weighed only 8.2 kg (18 lbs) placing her in the 10th percentile nutritional equivalent scale which is used by PANNIN.
Having attended CICO preschool for 10 months and receiving nutritional meals using Quality Protein Maize, vitamins and minerals provided by Self-Help International, great progress is being seen in Dina's weight and overall health. In February of 2011 at 22 months of age, Dina was placed in the 30th percentile weight range which is normal for her age. Her hemoglobin had also increased to a normal value of 36.
Self-Help wants to thank everyone who so generously donates to their programs to make stories like Dina's possible. Each donation goes towards improving the health and happiness of severely malnourished children in Nicaragua.
The villages of Amanchia and Worapong, Ghana are sites where nearly 250 children ages 6 mos. to 6 years gather to attend preschools. As part of Self-Help's children's feeding program, each day the youngsters receive a serving of Quality Protein Maize (QPM) porridge with vitamins and minerals. This QPM porridge has greatly improved the health and well-being of these youngsters. Many children initially come to the school malnourished, with underweight bodies and dull minds. Within a few months the transformation is remarkable, and moving to observe.
And now there is a new twist in the program that is both exciting and commendable. Junior high students from both of these villages have taken upon themselves to learn good cultivation practices by growing their own QPM. But it doesn't stop there! The students have also decided to contribute a portion of their harvest to Self-Help's feeding program! We are thrilled by their generosity and concern for others.
Self-reliance, teaching the young to contribute to society, and improving youngsters' lives makes us proud to be involved in these communities!
Agnes Jaka, 70 is a farmer and palm oil producer living in Bomfa, Ghana. In 2007 Agnes decided to expand her farming to include animal husbandry. She saw this as an opportunity to further develop her farming practices and add another source of income.
In February of 2008 Self-Help trained Agnes on animal care and gave her a loan of 140 cedis (US$127.30). Agnes purchased 2 female sheep and a ram. Each female gave birth to a lamb. Agnes was excited to see the progress her farm was quickly making. Unfortunately illness struck in 2009 and only the ram survived. Agnes had no choice but to sell the ram in order to pay off her loan. She was determined to get back on her feet and find success.
In 2010 Self-Help granted Agnes a loan to buy a screw press to improve her palm oil processing. The screw press has increased her production, decreased processing time, and allowed her to rent the equipment to other farmers. This success has allowed Agnes to pay off her screw press a month ahead of time. She is grateful to Self-Help for a new opportunity. Agnes said, "Given the opportunity, I would like to receive a loan to buy a digester so I can stop using mortar and pestle which is laborious and time consuming".
Self-Help stands by its beneficiaries helping them to find success, new opportunities and sustainability.
Links:
WARNING: Javascript is currently disabled or is not available in your browser. GlobalGiving makes extensive use of Javascript and will not function properly with Javascript disabled.
Please enable Javascript
and refresh this page.