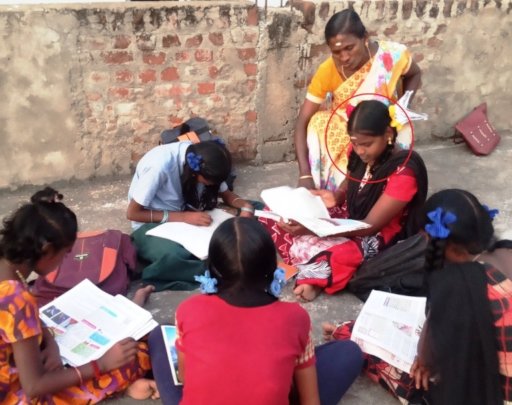 Geetha (name changed) looked longingly at her friend talking to her dad. Her heart saddened at the thought of her dad who died a few years back. Geetha's father was an electrician. He died of electric shock when he was working. The sudden demise shattered the family.
Geetha's mother was a housewife and the family was happy and content meeting their basic requirements when the father was alive. After his death, her mother had to search for a job. She is not much educated. Hence she started working as a creche caretaker. She is getting $43 per month. With this income, she should feed her 2 children and herself.
Geetha joined our coaching class in 6th standard. Now she is in 8th standard. She loves Science. She scores 78% of marks now. Her aim is to become a teacher. With the limited income, we know that it is difficult for her mother to send her to higher studies. New Life wants to see this poor family come out of their plight by fulfilling Geetha's dream of becoming a teacher. She is being supported to study through our coaching class. She is also getting support from New Life by way of learning materials, dresses, etc. Dear donors, kindly support this fatherless child Geetha through supporting our coaching class project.
During this quarter, Pongal Day was celebrated on the 14th of January. Children from our coaching class and women beneficiaries participated in the celebration. Games were conducted for the children and prizes were given for the winners. New dresses were given to poor orphaned / single parented children and to poor widowed / deserted women. The dresses were donated by two of our local donors.
The Republic Day of India was celebrated on the 26th of January in Kajapet. It was overwhelming to see our cute early learning children dressed up as great Indian leaders. Cultural events and speeches were given by the children from coaching class. Prizes were given to all the participants. The national flag was hoisted and sweets distributed to all.
Dear donors, you would wish to see this poor girl continue her school education and reach her aim. To complete her education she needs to be supported. This is possible only with the support you give to our coaching class. Many such children like Geetha can achieve their aim only with the support you give to continue their studies.
Thank you, donors, for being with us all these days and help these poor children study in spite of their odd circumstances. Kindly keep supporting us by spreading the message to your friends and relatives and help us continue our projects. You can reach us at www.newlifemfi.org
Thank you once again.