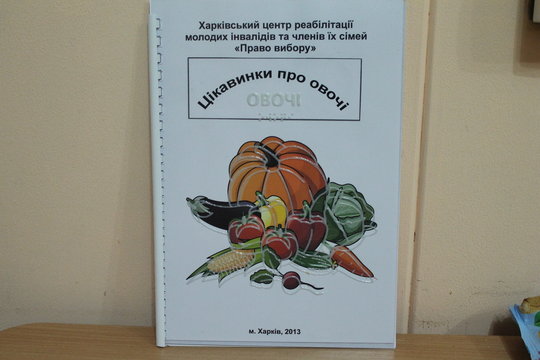 Dear friends,
Thank you for your support of our project "Create Braille Books For 1000 Blind Children". Please, take some time to read our third project report. Since the reporting period , we have done a positive change in our project , and we are pleased to report about it.
With the help of our project , we raised the lack of Braille books awareness at the community and national level. National Assembly of Disabled in Ukraine in parallel to our project "Create Braille Books For 1000 Blind Children " to create a mini-printing house, in July 2013 was initiated by the All-Ukrainian project " Readong Equally " with the support of the Association of Press Publishers . Ukrainian goverment allocated money from the budget for publication Braille textbooks "Mathematics" for the blind first-grade-students to spread around all the schools in Ukraine.
We took two trips to St. Petersburg's special library for the blind and the Belgorod regional library for the blind to study their Braille books publication experience of their resource centers. The information about our project was presented on October 29-30, at the Summit of the Library of libraries for the blind in Belgorod. Several libraries of Russia , whhich have experience in publishing Braille books are ready to provide us with methodological support and share the already published books. For example, Saint Petersburg's library for the blind can give us 20 copies of different books in Braille for the blind children. Due to the support of the Global Given team, our project " Create Braille Books For 1000 Blind Children " moved forward. Today, except for the money received from Global Given, we attracted additional 2.5 thousand dollars.
So far, we developed our first book with puzzles for the pre-school children called "Vegetables" in Ukrainian and Russian with tactile pictures inside. The book includes puzzles, poems and stories about vegetables. The book is very much liked by the children, parents and professionals . The most important advantage of the book is that it is accessible for the blind and visually impaired children. The text is printed both in Braille and Arial font. This book has a universal design and can be used in an inclusive child care. We printed 30 copies of the book "Vegetables" and distributed to children's libraries in Kharkov.
Now we are working on design of Braille books called "AT the Meadow", "Who lives in the sea?", "Visiting the aunt "Weatherproof", " Geometric fairy tales." We are preparing a new campaign to raise funds to support the project for the International Day of the Blind on November 13. We are constant;y contacting our partners, parents, volunteers to speak about the project "Create Braille Books For 1000 Blind Children".
Our kind regards,