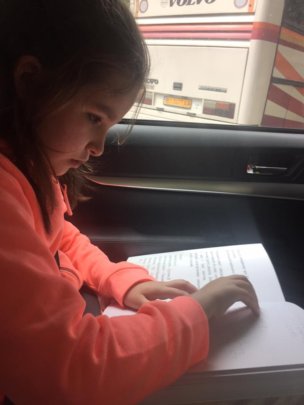 Dear Friends,
Thank you for your support and for following our project!
We are proud to say we were very active and we printed and designed 5 more books for the blind children. We have applied for Braille books contest in Ukraine and as a result we were invited to participate in the National Braille Books Exhibition.
We have partnered with more authors who write contemporary tales in order for our blind kids to stay updates and enjoy the same tales as their peers do.
The books were distributed for free in Kharkiv, KIev, Zhitomir, Rovno, Lviv, Odessa. we have organized a presentation for our newly printed books and told all Ukraine about their availability.
"My mom taught me to read and now i can read new tales that i really like. i like fairy tales very much. My mom used to read them for me in aloud voice, but now i can do this by myself. Thank you Valentina Antonovna for the books.@, Says Olya, who is a blind 8-year-old girl. Braille is hard to read for her, but now she has an opportunity to read it.
Thank you again for supporting our project. Please, lets make our blind children enjoy the fairy tales, learn and practice with reading and enjoy their lives as their peers do!
Sincerely,
Valentina Butenko