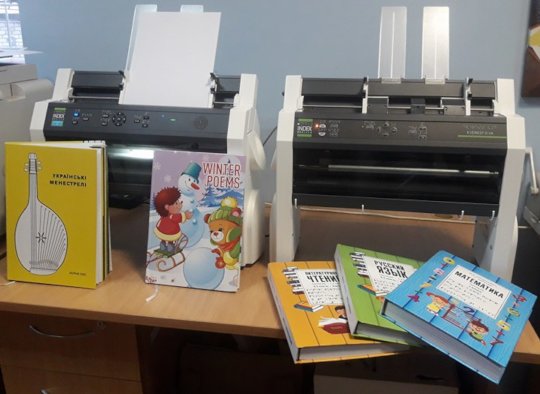 Dear friends!
We have worked very hard for you before Christmas and New Year. Blind children in Ukraine received wonderful books with Christmas stories and New Year's adventures in Braille as a gift. Thank you for being with us. Our team is proud that you are interested in our project.
We are very happy that thanks to your support in Ukraine, there are more books for children and young people with visual impairment!
During the reporting period, our team moved forward. Not exactly as we dreamed. Price fluctuations and the depreciation of the hryvnia did not allow us to buy a new Braille Box printer. We only had enough money for a new version of the Everest D V5 printer. And now we have 2 printers. We print books twice as fast.
During the reporting period, we adapted and printed, taking into account the standards of universal design, such books:
- Sergey Kozlov. Winter fairy-tales 2 parts.
- Winter poems - poems and winter in English with audio recording.
- Folk Tales - folk tales in English with audio recording.
- The Three Bears
- The turnip
- The bun
- Elena Rakitina. Adventures of New Year's toys.
- Elena Rakitina. Country of New Year's toys.
- Bernard Verber. Empire of angels.
- A series of "Baby Books" - fairy tales in German.
- lgojata Pecarskaya. Class of the Pani Chaika. - Stories about ordinary Polish teenagers.
Ukrainian minstrel is a new version with audio recording.
Katerina Babkina. Garbuzovyi year. Braille book with audio recording.
Tuve Janson - "Country of Mumi Trolls".
With great joy our children received creative sets for making New Year's, Christmas cards, souvenirs for St. Valentine's Day ..
The victory of our project is that our books appeared on the shelves not only in special libraries for blind people, but also in ordinary bookshops (Chulan (Kiev), Knigarnia (Kharkov, Kiev)).
Thanks to our project, 6 cafes in Kharkiv adapted their menus for visually impaired visitors in Braille.
We do not stop there. Our team is constantly learning.
The design and quality of the binding of our books has changed. We pay much attention to the adaptation of illustrations to books. We really want the children with visual impairment to be able to imagine the characters of the books thanks to the relief drawings.
For visually impaired schoolchildren who study on an inclusive form, we continue to adapt and publish textbooks in Braille.
Textbooks for the 2nd grade have already been adapted. And we received an order for the adaptation of textbooks for grades 6 and 7.
Thank you dear friends! Each of you makes our world more real and accessible to blind children.