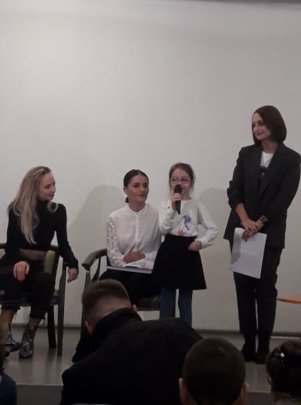 Dear friends!
We thank everyone who was with us and supported our project for printing books for blind children in Ukraine. It is very important for us that there are people who are ready to help us move forward.
During the reporting period, we published new books
The highlight of our work was the book of poems for children "Elderberry King" of the famous Ukrainian writer Lina Kostenko.
Lina Kostenko in Ukraine is called the queen of poetry, from the sleeve of which the golden words of poetry are streaming. Her poems tell blind children about nature, they are funny, rhythmic and vibrant.
When we read the book "Elder King" we wanted blind children to introduce the heroes of poetry. We printed an "Album for creativity based on the book" Elderberry King ". Children can draw and make appliqués by their own samples.
On November 13, the International Day of the Blind, there was a presentation, first published on paper, of a collection of Lina Kostenko's children's poems "The Elder King", printed in Braille.
The presentation of the book took place in the creative space of Chasopys. The meeting was attended by writers, social and cultural activists, specialists in universal design and Braille, television representatives, thought leaders and the most important guests - pupils of specialized boarding school for visually impaired children.
The children were the first to read the book. They were delighted, they prepared poems and songs, the presentation had an incredible and cozy atmosphere!
The presentation was opened by Space Host Alena Kalibaba, who is actively involved in the project
"Our projects are designed to develop children intellectually and culturally, we provide vocational guidance at Kyiv schools, record video lectures on our YouTube channel, and as part of our inclusive Future on Touch project, we help visually impaired children.
Also, we organize inclusive readings. Together with Valentin Butenko, we publish children's art books in Braille. Valentina informed us that there is a collection of Lina Kostenko's children's poems that has not been printed yet, the idea came up to make such a gift for blind children, who are very fond of Lina Kostenko's poems.
We are very pleased to be able to implement this idea and print the collection in Braille! And, although the book is now published in small numbers, our patrons and friends are supporting us and we are working to make our world an equal place for all. "
The opportunity to read poems by Lina Kostenko was given to Ukrainian actresses and participants of the Women's Quarter of Irina Soponaru and Martha Adamchuk. We are very grateful to the girls for a warm welcome! They so readly read the poems that they ignited a passion for creativity in young listeners. And on stage, the children began to recite Lina Kostenko's wonderful poems, and, finally, presented a Ukrainian folk song.
A special feature of the evening was the reading in the darkness of the main poem of the collection "The Elder King", two blind children, who with their smart sensitive fingers proved how skillfully they have the skills of reading Braille and that darkness does not stop them.
The evening ended with the words of the project's chief patron Alexandra Govorukha: "It is said that charity should be done quietly, but why can we shout on Facebook about bad airlines and service, and about the needs of the blind, and everyone who needs help? It is wrong. These useful and crucial projects need to be talked about and supported "
https://www.facebook.com/100010993991952/videos/960280274348430/
https://www.facebook.com/tanya.tali.1/videos/pcb.2451622115106621/2451621938439972/?type=3&theater1
https://www.youtube.com/watch?v=rNgVAKDkH8g&app=desktop
https://video.112.ua/v-kieve-prezentovali-sbornik-detskoy-poezii-liny-kostenko-dlya-nezryachih-309237-amp.html
Thank you all for your support!