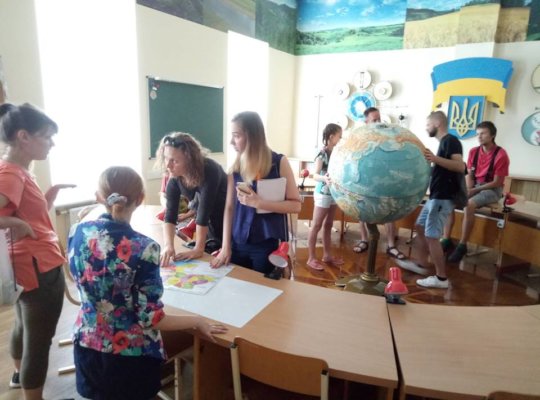 Dear friends!
We are grateful to you for having been with us for several years and supporting our project.
Your support allowed us to work in the reporting period under the motto: "We print dreams!".
Our team invited blind children and their moms to dream about what books they would like to read Braille printed and what board games they are interested in. It was a bold decision on our part. But we cope.
This summer, on the basis of our center, an International Youth Camp was held in partnership with the "Ukraine-World" public organization. 12 participants from Germany, Poland, Czech Republic, Turkey, Ukraine gathered in Kharkov to get acquainted with adaptation technologies for blind children and our experience. For 10 days they listened to lectures, sewn tactile books, played with blind children in adapted games.
Over the summer, we adapted and presented to blind children more than 100 books and 50 adapted games.
Ukrainian blind children received Braille-adapted books: L. Carroll "Alice in Wonderland", a collection of folk tales in English, three fairy tales in German, and others.
In July 2018, we held the All-Ukrainian Seminar "Start in Inclusion" for families who bring up blind children. 30 families from different cities of Ukraine came to Kharkov to get acquainted with the methods of education of blind children and teach them to play board games with their visionary peers. For this purpose, we have prepared for the parents and specialists a methodical manual "Games and toys for the blind child". At the seminar for 5 days, parents, along with the kids, tried to adapt the games themselves and immediately played them.
The very responsible direction of our project is the preparation of textbooks for children who are on an inclusive form of education. During the reporting period, we adapted the textbooks for the third grade. The most difficult for us to adapt teaching aids in foreign languages, for blind children who study in general education schools. The authors use a lot of drawings. It is interesting and understandable for children who see and are very difficult to perceive blind children.
Now we have begun work on adaptation using the standards of universal design of the book "Starry Tales". The authors of fairy tales, famous Ukrainians, presented their starry craftsmanship to small readers who turned out to be one on one with serious illnesses. but
The book is not at all sad, because the authors sought to convey the little one
and adult readers all the brightest, unusual, magical.