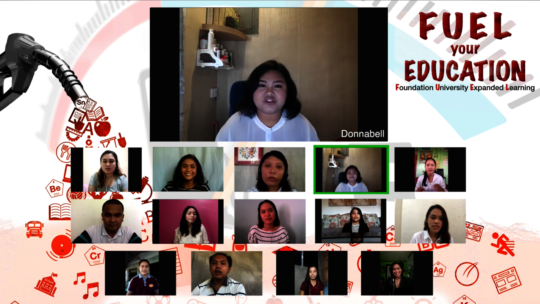 Foundation University's mission has always been to provide quality education by enhancing and promoting a climate of excellence relevant to the challenges of the times.
Today, as we are faced by an unexpected challenge brought about by the COVID - 19 global pandemic, it did not stop the university from generating creative ideas to respond to the needs of educating our youth and offering equal opportunity for all to pursue knowledge which is very much true to it's vision.
The university came up with F.U.E.L. (Foundation University Expanded Learning) Program. It is a learning platform which delivers education online. However, it has also been considered that not all students have access to the internet. To address this concern, the FUEL Program was created with three modalities of teaching:
1) Synchronous - for students who have internet access
2) Asynchronous - for students who do not have access to internet
3) Mixed Program - for students who have slow access to the internet or do not have gadgets to go online
The above programs was created for every student including the financially challenged whom the university provides scholarship programs for to grab the opportunity to continue their education in these trying times.
Classes started last July 1, 2020 using various online media platforms that may be utilized for the delivery of educational materials and lectures like Zoom, Facebook Messenger, Lark,Webex, Youtube while those availing of the Asynchronous Method utilize modular instruction which are being sent to the student via courier.
The university remains true to its vision and mission while achieving its life purpose of educating and developing individuals to become productive, creative and responsible citizens of society.